The cast of the upcoming Center for Puppetry Arts production of Anne Frank: Within and Without toured the Anne Frank in the World exhibit in Sandy Springs on January 21, 2015. After viewing The Short Life of Anne Frank, the cast was guided through the photographic panels displaying photos of the Frank family alongside historical photos contextualizing the events that culminated in the Holocaust.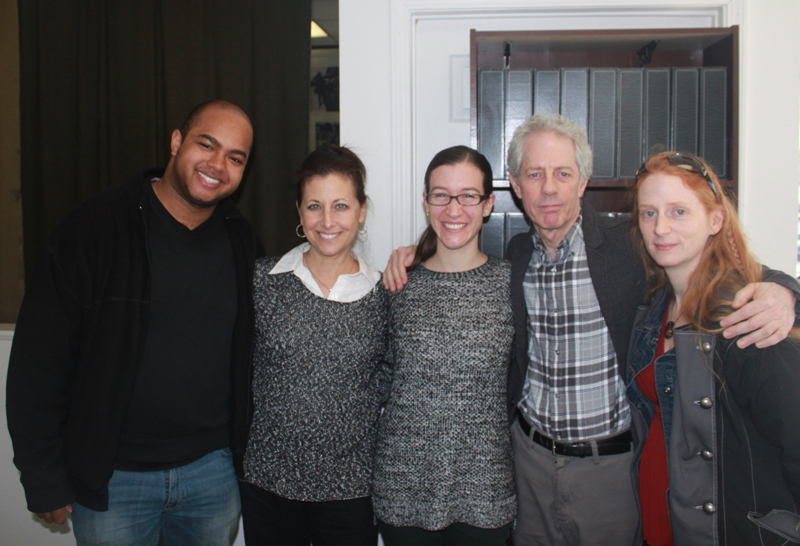 From left to right: Jeffrey Hyman (Performer), Mira Hirsch (Director), Caitlin Roe (Performer), Chip Epsten (Performer/Composter), Jessica Lewis (Stage Manager). 
Adapted by Bobby Box and directed by Mira Hirsch, Anne Frank: Within & Without examines the life of a remarkable young girl who is trying to make sense of an irrational world. Examining her hopes, dreams, and the inner strength that carried her from day to day during Nazi oppression and persecution, this celebratory piece is not just about death, war, or "that poor little girl," but rather acts as a meditation on hope and all that is good in humankind. Recommended for ages 12 and up, this production is suited for middle/high school students and adults.
The Center is the largest non-profit organization in the USA dedicated to puppetry. This will mark the third time the Center has presented Anne Frank: Within and Without, following productions in 2005 and 2008. 
Anne Frank: Within & Without is presented in cooperation with the Georgia Commission on the Holocaust, sponsor of the Anne Frank Center USA's exhibit Anne Frank in the World: 1929-1945.