Add to Calendar
Mon, 04/03/2017 (All day)

to

Fri, 04/21/2017 (All day)
Location:
Fountain-New Library
201 David-Eliza Fountain Circle

The Georgia Commission on the Holocaust is bringing the travelling exhibit "Witness to the Holocaust: WWII Veteran William Alexander Scott III at Buchenwald" to Brewton-Parker College. The exhibit will be on display in the  Fountain-New Library from April 3-21, 2017. Admission is free.
 
The travelling exhibit is a series of 10 panels highlighting World War II veteran and civil rights activist, William Alexander Scott III.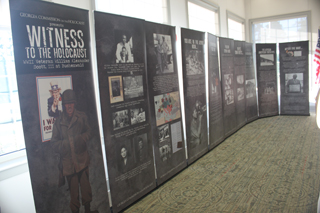 Scott was a student at Morehouse College in 1943 when he was drafted into the U.S. Army. During World War II, he served as a photographer and camoufleur in the Intelligence Section of the 183rd Engineer Combat Battalion. He witnessed the liberation of the Buchenwald concentration camp through the lens of his camera.
Buchenwald was one of the largest concentration camps established within German borders. Scott entered the camp in April 1945 on a convoy with the 8th Corps of General George S. Patton's 3rd Army.
After witnessing the horrors of the Holocaust, Scott returned to Atlanta. In 1948, he became the circulation manager of the Atlanta Daily World. The newspaper was founded by his father in 1928. It is one of the first black-owned newspapers in the U.S.
Scott served on the committee for the first official national holiday commemorating Martin Luther King, Jr. Scott was appointed to the Georgia Commission on the Holocaust by Georgia Governors Joe Frank Harris and Zell Miller. He was appointed to the United States Holocaust Memorial Council by President George H.W. Bush.