A Home for Refugees
Are you interested in hosting this exhibit?
Review the current tour schedule to ensure the exhibit is not already booked during the dates you would like to request.
Once you have read and agree to the requirements listed in the packet, please submit a booking request. Please note that requests must be sent a minimum of 4 weeks prior to the preferred display date. Please be aware that the Georgia Commission on the Holocaust is busiest from February through May. For requests during this season, we encourage you to submit your request two to three months in advance.
Learn about other panels in the series "Georgia's Response to the Holocaust." Single installments or the entire series are available for loan to schools and organizations. 
photo 17.JPG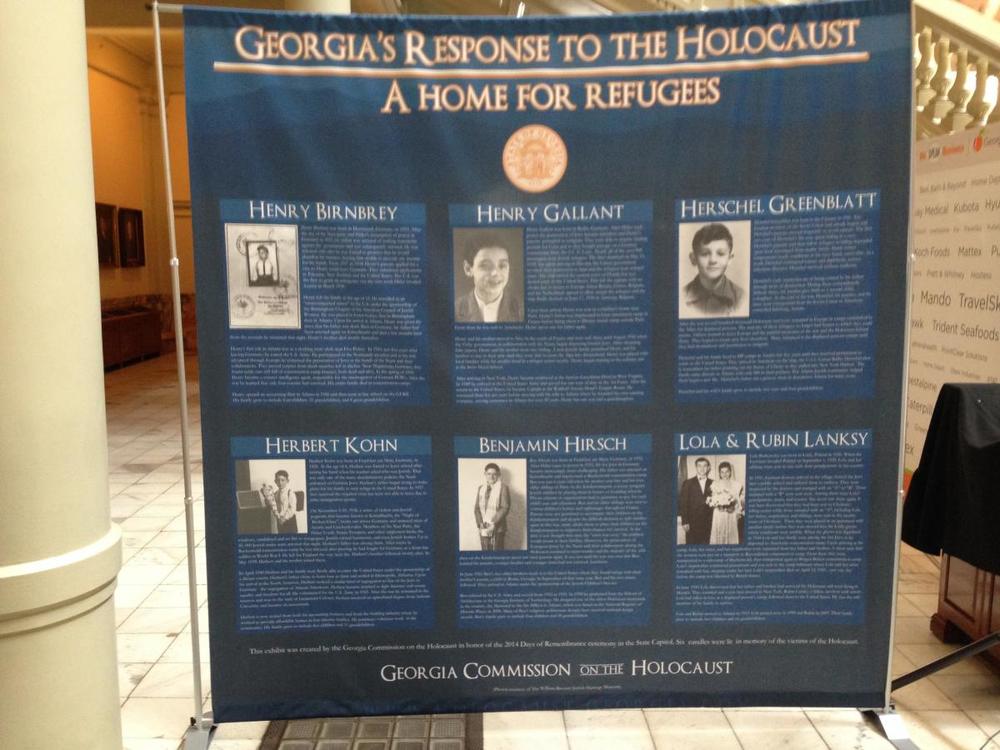 The first installment of the "Georgia's Response to the Holocaust" series is "A Home for Refugees", which tells the stories of seven survivors who left Europe after Hitler's rise to power and began new lives in Georgia. The Holocaust survivors featured in "A Home for Refugees" include:
Henry Birnbrey
Henry Gallant
Herschel Greenblat
Ben Hirsch
Herbert Kohn
Rubin and Lola Lanksy
Photos included in the exhibit are courtesy of The William Breman Jewish Heritage Museum. 
Specifications
Each installment is a single free-standing panel measuring 98" by 98". 
Fees
There is no rental fee at this time for this exhibit. However, hosts may be asked to cover the travel expenses for the Georgia Commission on the Holocaust staff member(s) for set-up and take-down of the exhibit unless other arrangements have been made.
As travel expenses will vary depending on location, distance, and availability the Georgia Commission on the Holocaust is unable to provide an estimate until booking negotiations begin with the host. 
No admission fee may be charged to the public to view the exhibit unless the host has a standard admission in place at the facility.
Current Tour Schedule
"Georgia's Response to the Holocaust" Booking Schedule