Governor Deal signs 2014 Days of Remembrance proclamation
On April 10, 2014, Governor Nathan Deal signed a proclamation declaring April 27 - May 2, 2014, as "Holocaust Days of Remembrance" in Georgia
.
On behalf of the State, the Georgia Commission on the Holocaust hosts an observance ceremony in the State Capitol
. The 2014 State Official Days of Remembrance Observance will
be held
in the State Capitol on May 2. The 2014 theme is "Confronting the Holocaust: American Responses".
The Days of Remembrance have been set aside for the people of the State of Georgia to remember the victims of the Holocaust as well

as to

reflect on the need for respect of all people

.
Members of the Georgia Commission on the Holocaust
were joined by
Holocaust survivors, Consul Generals of Israel, Canada, France, and Germany as well as community partners, and Holocaust educators
.
The United States Congress established the Days of Remembrance as our nation's annual commemoration of the Holocaust
.
Since 1982, the United States Holocaust Memorial Museum (USHMM) has organized and led the national Days of Remembrance ceremony in the U.S. Capitol Rotunda
.
The Governor of Georgia
annually
issues proclamations declaring the Friday following the USHMM Days of Remembrance as Georgia's official Days of Remembrance
.
We the people of the State of Georgia should

activiely

rededicate ourselves to the principles of individual freedom in a

just

society

.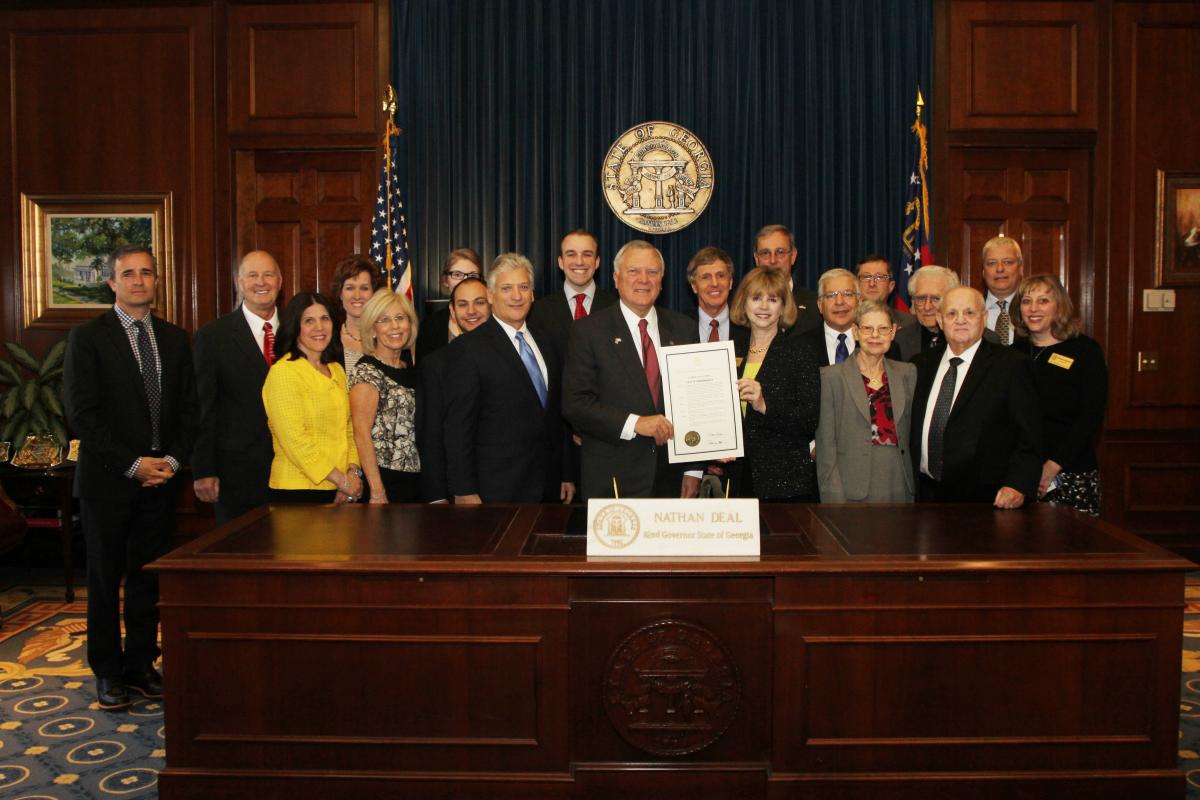 (Left to right: Brendan Murphy, Chris & Nan Alberts, Karen Edlin, Sandra Craine, Michael Altman, Richard Harker, Governor Nathan Deal, Stan Lefco, Sally Levine, Consul General of the Federal Republic of Germany Christoph Sanders, Consul General of Israel Opher Ivran, Consul General of the Republic of France Denis Barbet, Hershel Greenblat, Ben and Rochelle Hirsch, Acting Canadian Consul General Robert
Pengelly
, Martine Bookman)