Governor Deal signs 2015 Days of Remembrance proclamation
Governor Nathan Deal signed a proclamation declaring April 12 - 19, 2015, as "Days of Remembrance" in Georgia. 
The Days of Remembrance have been set aside for the people of the State of Georgia to remember the victims of the Holocaust as well as to reflect on the need for respect of all people."
The United States Congress established the Days of Remembrance as our nation's annual commemoration of the Holocaust and created the United States Holocaust Memorial Museum (USHMM) as a permanent living memorial to the victims. Since 1982, the USHMM has organized and led the national Days of Remembrance ceremony in the U.S. Capitol Rotunda, with Holocaust survivors, liberators, members of Congress, White House officials, the diplomatic corps, and community leaders in attendance.
 
We the people of the State of Georgia should activiely rededicate ourselves to the principles of individual freedom in a just society." 
 
The Governor of Georgia annually issues proclamations declaring the Friday following the USHMM Days of Remembrance as Georgia's official Days of Remembrance. On behalf of the State, the Georgia Commission on the Holocaust hosts this ceremony in the State Capitol. The 2015 State Official Days of Remembrance Observance will be held in the State Capitol on April 17. The 2015 theme is "Witness to Liberation: 70 Years Later."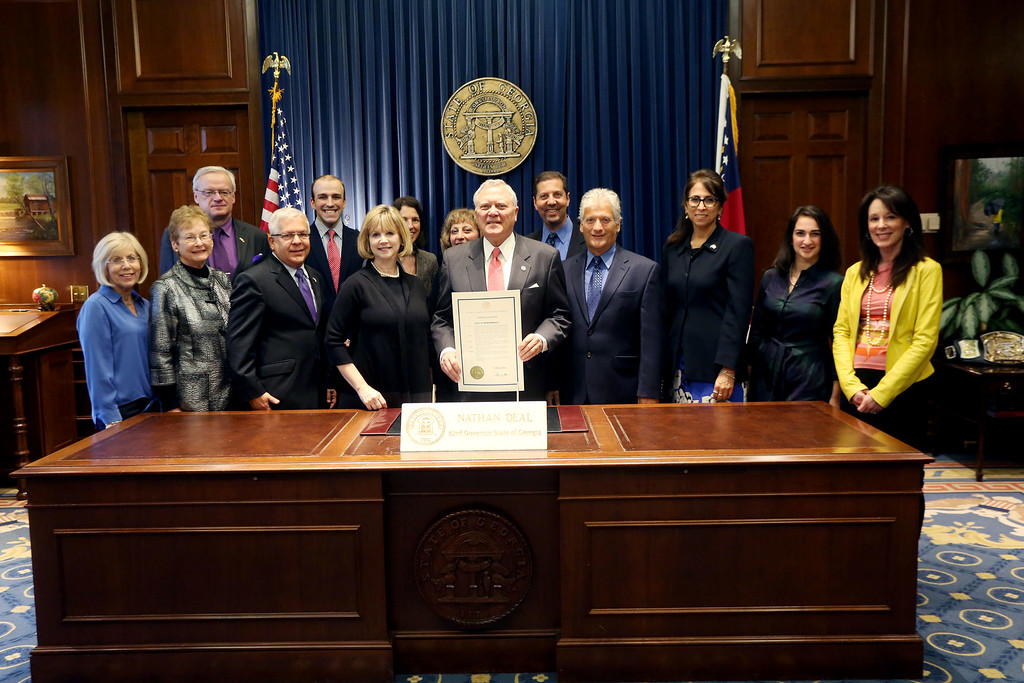 (Left to right: Georgia Commission on the Holocaust (GCH) Education Coordinator Sandra Craine, GCH board member Dr. Claire D'Agostino, Deputy Consul of Germany Thomas Wulfing, Ambassador Opher Aviran, Kennesaw State University Museum of History and Holocaust Education's Education and Outreach manger Richard Harker, GCH Executive DirectorSally N. Levine, GCH Office Manager and Administrator Jill Linder, GCH Exhibit and Project Coordinator Martine Bookman, Governor Nathan Deal, GCH board member Steve Sutton, GCH chair Michael Altman, Israel Consulate staff Jacquelyn Allen, Dena Weiss, Georgia Coalition to Prevent Genocide chair Melanie Nelkin) 
The Georgia Commission on the Holocaust was established to teach the lessons of the Holocaust to present and future generations of Georgians in order to create an awareness of the enormity of the crimes of prejudice and inhumanity and a vigilance to prevent their recurrance. The history of the Holocaust offers an opportunity to reflect on the moral responsibilities of individuals, societies, and governments.