12 JUNE 2013 – Meghan McNeeley, an 8th grade English Language Arts teacher at Clarke Middle School in Athens, Georgia, has received the 2013 Spirit of Anne Frank Outstanding Educator Award. She accepted the honor and spoke at the Anne Frank Center USA's annual Gala in New York City on June 12th, 2013.
McNeeley is a two-time graduate of the University of Georgia College of Education with a bachelor's in Middle School Education, and a master's in Children's Literature and Language Arts. She has been teaching 8th grade English at Clarke Middle School in Athens, Georgia, since 2000.  Her years in the classroom have been punctuated with many accomplishments including roles such as a lobbying representative for the Red Clay Writing Project, participant in of the National Writing Project, and nominee for district teaching excellence awards.  
Earlier this year, McNeeley was named a Distinguished Educator of the Year by the Georgia Commission on the Holocaust, and serves on the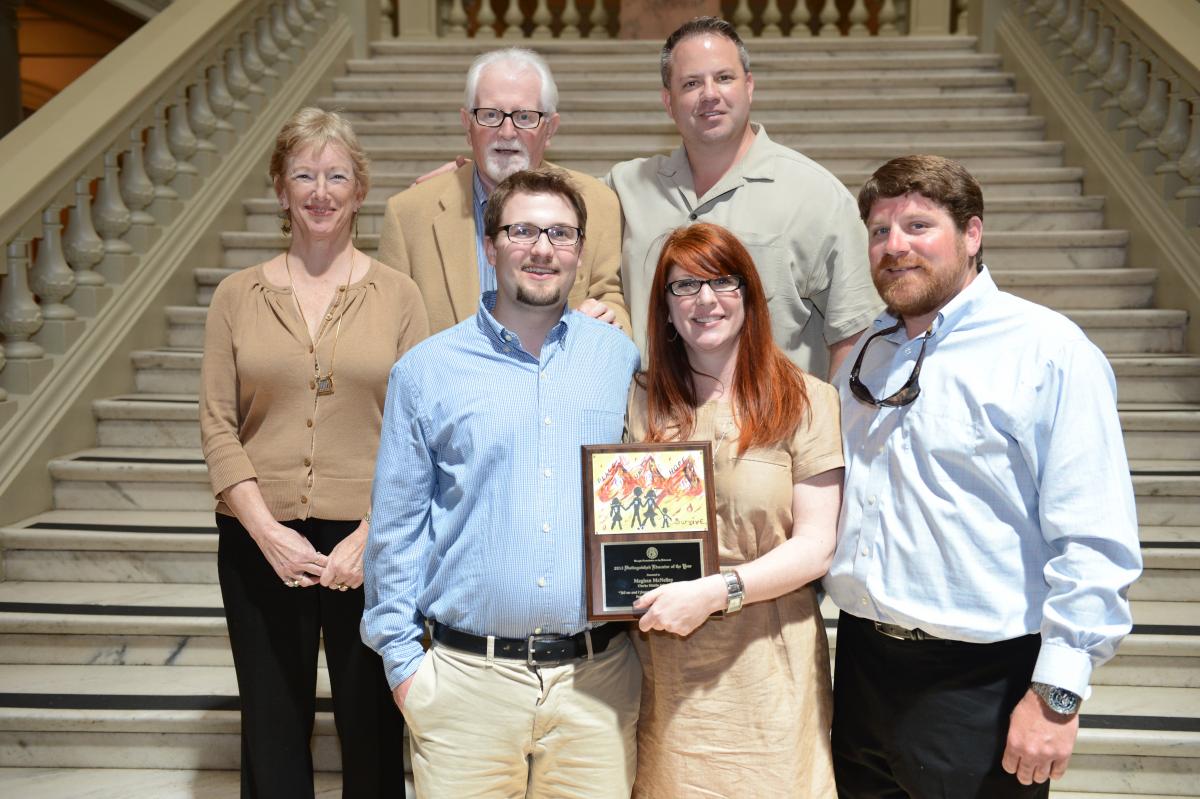 Commission's Educator Advisory Committee. She is actively involved with the United States Holocaust Memorial Museum (USHMM) as a Museum Teacher Fellow, as well as a member of the USHMM's Regional Education Corps. WXIA-TV's Channel 11 recognized McNeeley as a "Class Act Teacher" for her dedication to teaching the lessons of the Holocaust in her classroom. She has been abroad twice to Poland and Israel, ensuring the impact of her studies in and experiences pertaining to Holocaust education. 
Photo: Meghan McNeeley and family at 2013 Days of Remembrance ceremony in Georgia's State Capitol.
McNeeley comments, "There is one reason for expanding my knowledge and interest in Holocaust history, memory, and education – my students.  I wish to answer kids' questions about the Holocaust, but more importantly, I want students to discover themselves through the lessons of the Holocaust.  Can they see their own cruelty reflected?  Can they see the effects of their own actions or inaction?  By witnessing the injustice and the inhumanity in the Holocaust, and in a smaller way, in themselves, can I help them to change?"