2019 Awards and Recipients
The 2019 Community Service Awards were given to honor students in middle and high school who are making significant contributions to their community through their time, actions, talents and dedication. Judging criteria was based on:   Did the student's efforts make a lasting or meaningful contribution or impact on the community?  Did this student stand out for serving as a strong role model for others and engaging others in service?  How much time has the student spent in service?  Is the student's volunteer work recognized and valued by peers and community leaders?  Congratulations to the 2019 winners: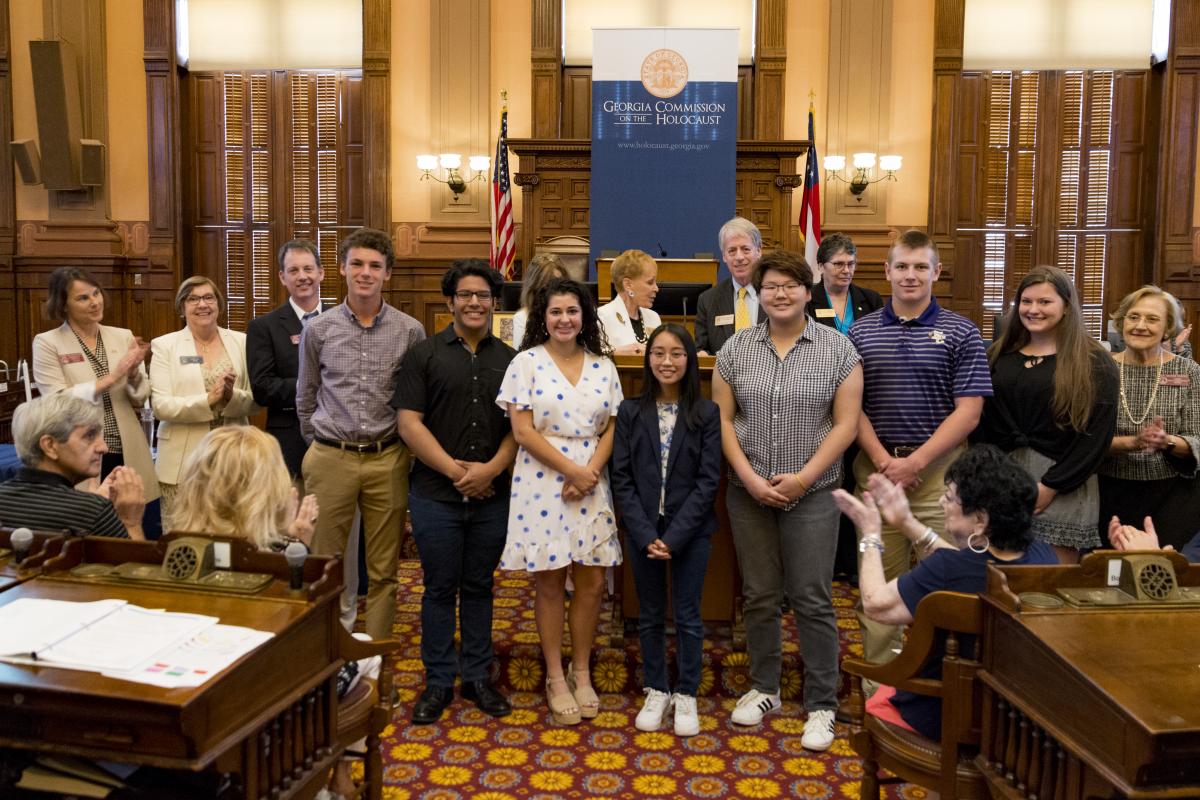 Student Community Service Award winners present at the 2019 Days of Remembrance program:
(Left to right):  Eli Hirshberg, Pedrojuan Solano, Anna Grace Rogers, Maggie Xia, Aaron Ricke Fenimore, and Sophia Phillips. 
High School Awards
First Place Winners:
Camille Argarin, 10th grade, South Forsyth High School (Forsyth County Schools)
As a member of the Secretary of State's Student Ambassador's Club, Camille hosted voter registration drives and created opinion polls. She worked as a volunteer poll worker and volunteered at school, church and children's programs in her community. Our judges were impressed by her understanding of and commitment to being a contributing member of our democracy.

Maggie Xia, 11th grade, Walton High School (Cobb County Schools)
Maggie is the founder and driving force of the Black Angels Quartet. She has taken her passion for music and applied it to fundraising that benefits diverse international charities. The judges were struck by her compassion and understanding of how the love of music is universal and the use of her impressive talents to raise funds for worthy causes.
Kavya Venkateswaran, 11th grade, Northview High School (Fulton County Schools) 
Kavya has dedicated herself to changing the world through her direct efforts. She is involved with faith-based organizations doing activities such as fundraising for homeless children, teaching English as a second language and creating opportunities for other teens to get involved in their communities. 
Second Place Winners:
Sophia Abedi, 11th grade, Alpharetta High School (Fulton County Schools)
As a six-year member of Beta Club, Sophia has demonstrated leadership and commitment to service that sets her apart.
Anna Grace Rogers, 12th grade, Newnan High School (Coweta County Schools)
Anna Grace is an active participant in the Newnan Youth Council, which provides youth the opportunity to learn about government and participate in the process.
Third Place Winners:
Pedrojuan Solano, 12th grade, Sprayberry High School (Cobb County Schools)
Pedrojuan is involved in a variety of activites through the Boy Scouts and his church that benefit his community 

BrookLynn Bing, 11th grade, Hapeville Charter Career Academy (Fulton County Schools)
Brooklynn volunteers with the Jesse Draper Boys and Girls Club of Metro Atlanta. She hones her leadership skills as a member of the Keystone Club developing programs and activities for the younger members.
Eli Hirshberg, 10th grade, Johns Creek High School (Fulton County Schools)
Through his involvement in Special Pops Tennis and Club 345 Youth Group, Eli serves his community through his gifts as a tennis player and role model to other youth.
Middle School Awards
First Place Winner:
Aaron Ricke Fenimore, 8th grade, East Coweta Middle School (Coweta County Schools)
As an Eagle Scout, Aaron dedicated over 100 hours to a community project, and as a member of the Fellowshp of Chriostian Athletes he embodied the organizational mission to 'show up and show out' in service to the community. 
Second Place Winner:
Sophia Phillips, 8th grade, East Coweta Middle School (Coweta County Schools) 
Sophia serves her community through participation in the Fellowship of Christian Athletes. She has worked to provide necessary supplies to hurricane victims, as well as feeding and providing gift packages to the homeless.