Awards
Chairman's Lifetime Achievement Award
Humanitarian Award
The Humanitarian Award is presented annually by the Georgia Commission on the Holocaust to individuals or groups that have demonstrated the spirit of humanity through volunteer work, advocacy, leadership and/or philanthropy in their community, thereby fighting indifference, intolerance, and injustice.
2019 Recipients:  Shirley and Dr. Perry Brickman
047 2019 DOR Wittenstein, Brickmans, D'Agostino with award - 2.JPG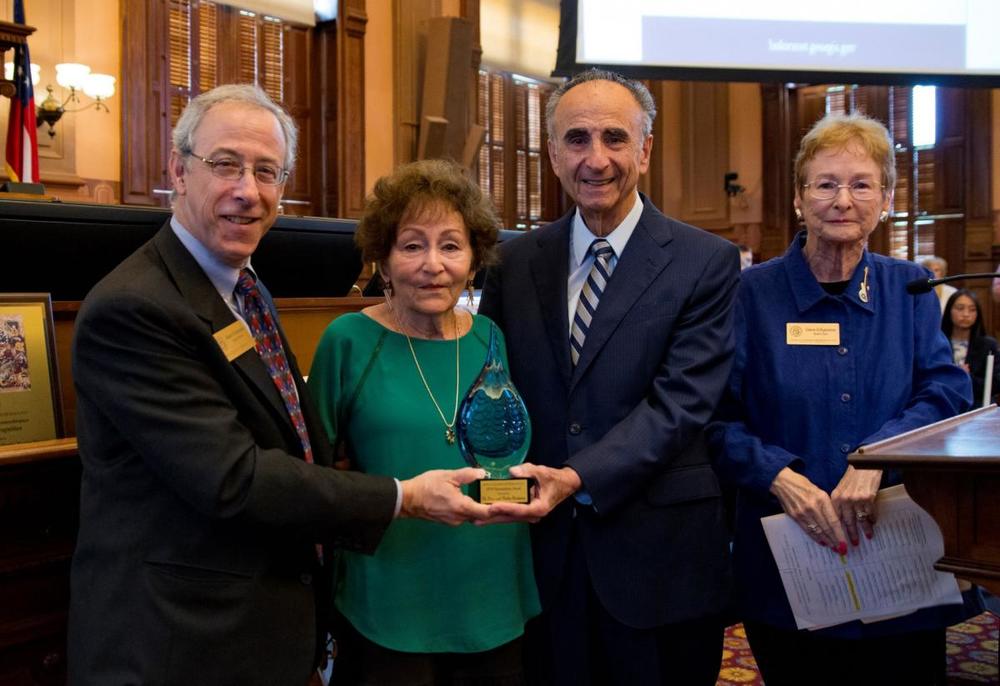 Shirley and Dr. Perry Brickman -center- (with GCH Board Member Robert Wittenstein and Claire D'Agostino) were the 2019 Humanitarian Award winners. In addition to supporting the endowment for Deborah Lipstadt's Holocaust Denial on Trial website, the couple exemplifies the mission of the Georgia Commission on the Holocaust in many ways. In 2012 Perry Brickman, a retired oral surgeon, organized the production of a documentary film, "From Silence to Recognition: Confronting Discrimination in Emory's Dental School History," which brough to light discrimination faced by Jewish dental students from 1948 - 1961.  For his work, he was given a Maker of History Award by the university. The couple have received numerous awards including the City Wide Israel Bonds Award and the B'nai B'rith Gate City Lodge Community Service Award. 
2018 Humanitarian Award Recipient: Dr. David A. Ross, CEO, The Task Force for Global Health
Dr. David A. Ross.jpg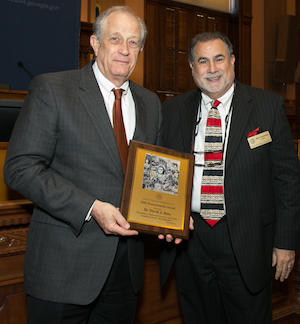 (Photo: Dr. David A. Ross with commission member Mark Scheinfeld at Georgia's 2018 Days of Remembrance ceremony)
Dr. Ross has over 35 years of experience, in both the public and private sectors, leading collaborative programs that strengthen the information capacity of public health systems in the United States and other countries. In his role as president and CEO of The Task Force, Dr. Ross provides strategic direction and oversees eight programs focused on neglected tropical diseases, vaccines, field epidemiology, and public health informatics. Read more.
2017
Vernon M. Keenan
Director, Georgia Bureau of Investigation
2016

Dr. Andrea Videlefsky
President of Am Yisrael Chai and founder of The Daffodil Project

2015
Eva Galambos
2014
2013
Bill Nigut
2012
Tuskegee Airmen
2011
Governor Nathan Deal
2010
Governor Sonny Perdue
2009
Michael A. Morris, United States Holocaust Memorial Museum
2008
Eli M. Rosenbaum
2007
Holocaust Memorial Museum, Leesburg Middle School
We Remember: A Memorial for the Children of the Holocaust, Habersham County Middle School
Children's Holocaust Memorial and Paper Clip Project, Whitwell Middle School
2006
Rescuers of Baby Noor: Captain Anthony Fournier, First Lieutenant Billy Chau, First Lieutenant Jeffery Morgan, First Lieutenant Charles Morgan, First Sergeant Sergeant Michael Sonen, Staff Sergeant Archer Ford, Sergeant Nicholas Jelks
Charlie Company First Battalion 121st Infantry 48th Bridage Combat Team, Georgia Army National Guard
2005
Dr. Robert R. Friedmann
2004
Jaap Polak, Chairman Emeritus of Anne Frank USA
2003
General Raymond G. Davis
2002
Reverend Gerald D. Durley and Rabbi Steven Lebow
2001
Senator Vincent D. Ford
2000
Senator Max Cleland
1999
Betty Cantor
1998
Dr. Marvin C. Goldstein
1997
Monica Kaufman
1996
Pat Conroy, author
1995
Thomas B. Murphy
1994
Governor Zell Miller
Chairman's Lifetime Achievement Award
2015 Chairman's Liftetime Achievement Award Winner: Ambassador Opher Aviran, Consul General of Israel to the Southeast U.S.
Opher Aviran was appointed in August 2010 to serve as the Consul General of Israel to the Southeastern United States. Aviran joined Israel's Ministry of Foreign Affairs in 1983, having since served at the Embassy in Rangoon, Burma, the Embassy of Israel in The Hague in the Netherlands, and the Embassy in Canberra, Australia. In October 2014, Aviran was promoted to the rank of Ambassador. Click here to read more.
DOR 2015 Chairman's Lifetime Achievement Award.jpg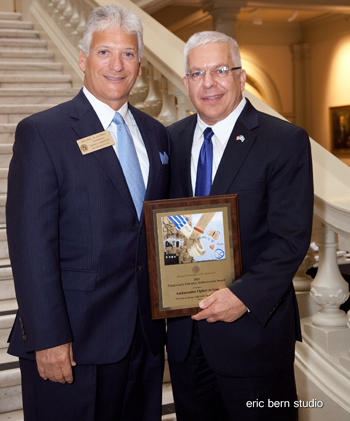 (Photo: April 17, 2015 - Chairman Michael Altman with Ambassador Opher Aviran)
| | |
| --- | --- |
| 2013 | Congressman Phil Gingrey |
| 2012 | Charles Edwards, CEO and President of Atlanta Center for Self Sufficiency |
| 2010 | Dr. Allan Gathercoal |
Executive Director's Award
2013 Executive Director's Award Winner: Representative Ed Rynders
On April 12, 2013, the Georgia Commission on the Holocaust, on behalf of the State of  Georgia, is hosting the annual State Official Observance "Days of Remembrance" of the  victims of the Holocaust. The observance begins at 12:00 pm in the North Wing of the  State Capitol.
The 2013 Executive Director's Award will be presented by Viki Staley to Representative Ed Rynders. The award is presented to an individual or individuals who have been a direct influence in the ability of the Executive Director to carry out the mission of the Georgia Commission on the Holocaust. 
2012

 Judy Serritella, Coordinator of Library Media Services, Georgia Department of Education

Rick Foster, Senior Project Manager, Optech Monnett LLC