Abraham and Blima Silverman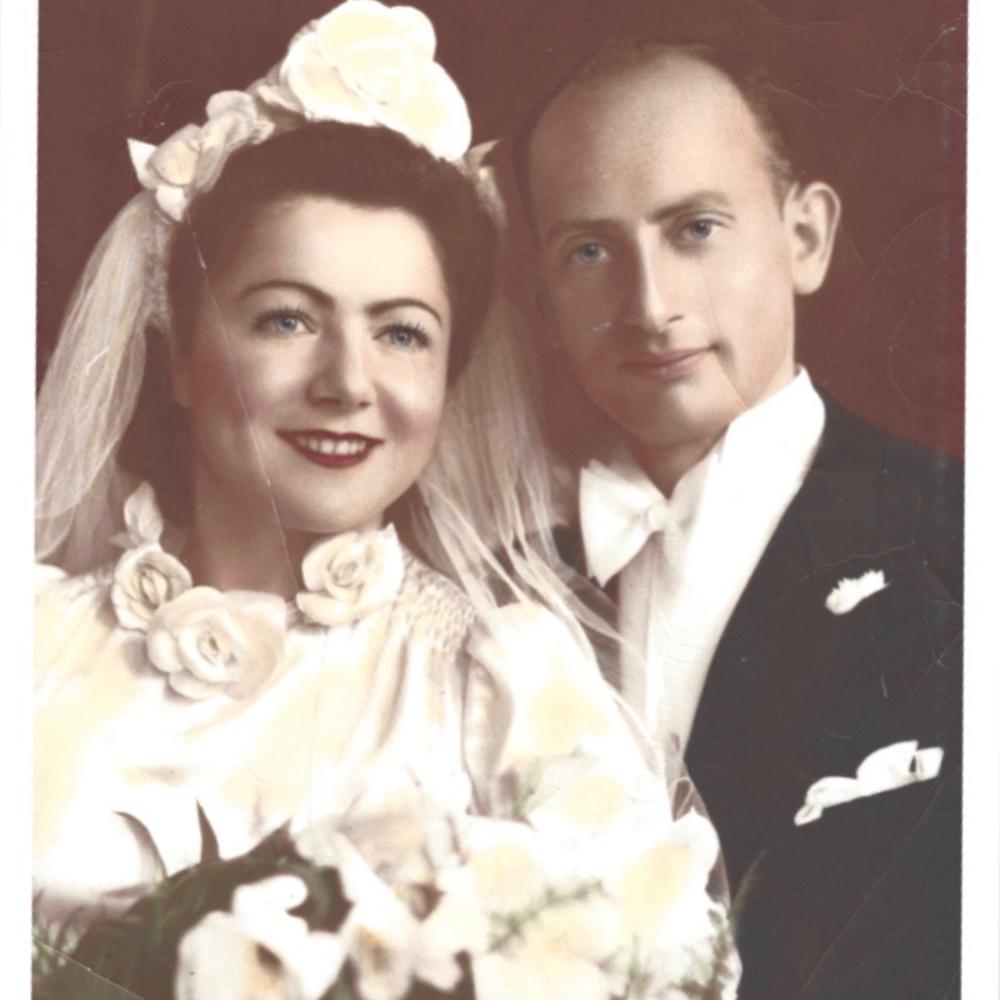 2020 Days of Remembrance Candle Lighters
Jews were present in the Kanczuga, Lvov district in Poland from 1597, comprising almost 40 percent of the entire population until the early 20th century. Abie and Blima Silverman married in 1930.  When Nazi Germany invaded in 1939, the young couple decided to leave Poland and relocate to Antwerp, Belgium. During the 1930s many Jews fled antisemitism to find refuge in Antwerp.  The Silvermans settled in and started building their business.  Abie was the upholsterer and Blima the seamstress.
Then in 1940 the Nazis invaded Belgium. At first there were anti- Jewish decrees that included expulsion from daily life and wearing the yellow star. In August 1942, the Nazis expelled all Jews, leaving the young couple with no relatives or friends.  In their hometown in Poland, Operation Reinhardt, the mobile killing of Jews, was taking place.
In Antwerp, Abie and Blima started to make plans to hide. Blima had a client whose family offered to assist them. Before going into hiding, Abie was seized by the Nazis and brought to the town square. Abie was one of 3,000 men deported to the Belgian province of Limburger, where they were forced to work as slave laborers. He then was put on a train headed to Auschwitz. The convoy that Abie was on was stopped by members of the Belgian resistance on April 19, 1943. During the fighting and confusion, Abie jumped from the train, slid to the ground and rolled under the train to hide between the wheels.
Now on the run to return to Antwerp, a city in ruins, Abie desperately searched to find Blima. Was she hiding or alive? Desperate, discouraged and without hope Abie decided to turn himself into the Gestapo. When he arrived at the Gestapo offices, the clerk was out to lunch. With no one in the building, Abie heared an inner voice urging him to quickly leave. Coming to his senses Abie bolted out of the building and walked down the street, disheveled, distraught and limping. And then a miracle occurred. At that exact moment, Blima was walking down the same street. In spite of his terrible appearance, Blima recognized her husband.
For the rest of the war, Abie and Blima were hidden by a sympathetic family until liberation in September, 1944.   Blima and Abie's son Harry was born after the war in 1947 in Antwerp. The following year, the three of them started a new life in America in the fall of 1948, settling in Brooklyn, New York.