Each year at the State Official Days of Remembrance observance ceremony, six candles are lit by Holocaust survivors, liberators, witnesses, rescuers, of their children. These candles are lit in memory of the victims of the Holocaust.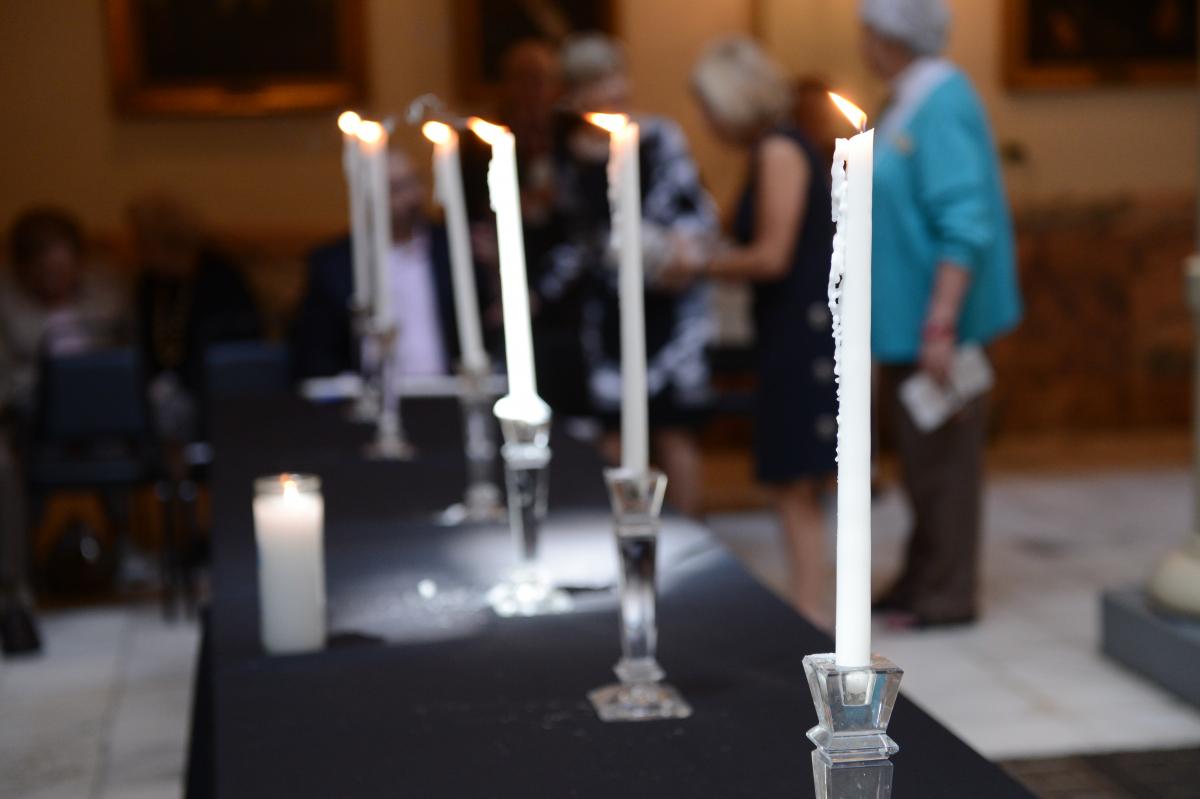 We Light Our Candles
We light our candles by passing the light of memory and hope from one to another. Let us honor those whose lights were put out, whose dreams, hopes and lives were snuffed out before they even lived, for the one and one half million children.
We light a candle for the untold millions for whom there is no one to mourn, whose entire families were annihilated and who lie in unmarked graves.
We light a candle for those who stood upright while others were bending to unmoral will. For the Righteous Among the Nations who risked and even gave their lives to help their fellow human beings.
We light a candle for those brave soldiers who liberated the camps; who carried the dead and near dead in their arms to a kinder and more humane future and for those who served with the allied forces to put an end to tyranny and oppression.
We light a candle for the nearly six million Jews and for the six million non-Jews who perished in a planned system of human destruction, the scale of which had never before been even imagined.
We light a candle for those who live even now under the yoke of oppression, in places where the threat of genocide is real and ever present.
-Unknown
---
2015 Candle Lighters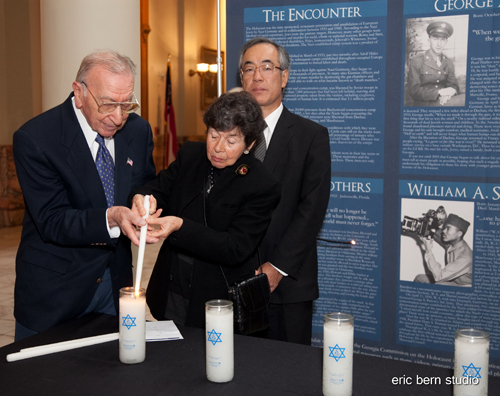 (Left to right: George Aigen, Manuela Mendels Bornsetin, and Consul General of Japan Kazuo Sunaga)
Manuela Mendels Bornstein • Holocaust survivor
Introduced by Denis Barbet, Consul General of the Republic of France
Manuela Mendels Bornstein was born in Paris to a Dutch father and a German mother. In June 1942, Jews in Paris were ordered to wear yellow Star of David badges for easy identification. In mid-July, the French police concentrated 13,000 Jews in the Velodrome d'Hiver sports arena in south-central Paris for days without food or water before deporting them to Auschwitz-Birkenau. Manuela and her family narrowly escaped this major deportation. Her parents decided to accept assistance from friends who were active members of the French resistance. With their help, the family moved to Legot, a small village in the unoccupied zone of southern France. The people in Legot were sympathetic to the plight of the Mendels family. Manuela and her sister attended school in a nearby village. The mayor provided them with false identification papers, putting himself and his own family at risk. No one in Legot denounced them. After Paris was liberated by the Americans on August 25, 1944, the Mendels returned to find that most of their Jewish neighbors had not survived. In 1960, Manuela moved to New York. She met her husband and the couple moved to Atlanta in 1972. They have 2 sons and 4 grandchildren.
George Aigen • Liberator
Introduced by Representative Wendell Willard
George Aigen was born in Brooklyn, New York. He was in his first term at New York University when Pearl Harbor was attacked on December 7, 1941. He felt it was his "duty" to be part of the war effort. So, at the age of 18, he was hastily inducted into the army. He was assigned to the 1269th Combat Engineer Battalion which was responsible for building roads and destroying mines and bridges. In the summer of 1944, just after his 19th birthday, George was shipped overseas to Marseille, France. As George and his unit crossed into Germany in April 1945 and approached Munich, they stopped a few miles ahead at Dachau, the first Nazi concentration camp established by the Nazis in 1933. George and his unit helped liberate over 32,000 survivors left in the camp. He recalls the initial encounter with these words, "When we made it through the gate, it was like walking into another world. The first thing that hit us was the smell." After the war, George completed his military service and received his college degree on the G.I. Bill. He and his wife live in Valdosta, Georgia.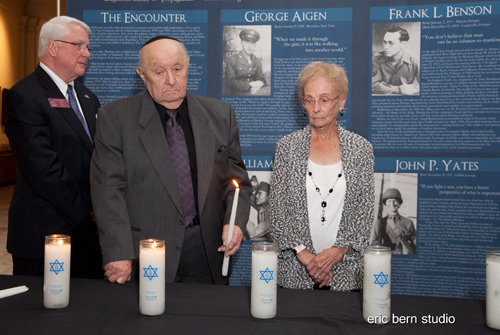 (Left to right: Representative Joe Wilkinson, Norbert Friedman, Edith Benson)
Norbert Friedman • Holocaust survivor
Norbert Friedman was born in Kraków, Poland. At the age of 14, he applied to a poly-technical school but was denied admission due to discrimination laws against Jews. After Germany invaded Poland in September 1939, Norbert and his family spent 3 years moving from place to place, avoiding capture. They reunited with family in Wielopole but the Gestapo entered the town soon after. Norbert was among the able-bodied men rounded up for deportation to work camps. Four weeks later, the town's remaining Jews were deported to the Belzec killing center. Fifty members of Norbert's family, including his mother, brother, and grandparents, were killed there in the gas chamber. Over the next 3 years, Norbert was assigned to 11 different camps including Dachau and Flossenbürg. He was liberated from a death march by the U.S. Army on May 1, 1945. He worked as an interpreter for the Fourth Armored Division until the fall of 1946 when he began studying for a career in journalism at Johan Wolfgang Goethe University in Frankfurt, Germany. He immigrated to the United States in 1950. He met his wife in New York. They moved to Atlanta in 2010. They have 2 sons and 4 grandchildren.
Edith Benson in honor of Frank Benson • Witness
Introduced by Kenneth DeSimone, Chief of Sandy Springs Police
Frank Benson was born in Macon, Georgia.  His family moved to Atlanta and he graduated from Boys High School, now Henry W. Grady High School. He was working for Western Electric in North Carolina when he met his wife, Edith. He enlisted in the military on June 22, 1942 and was assigned to the 1st Army Headquarters Signal Battalion, a group of soldiers trained in communications and responsible for running ahead to establish communication lines. Frank and Edith married in February 1944, just before he was shipped overseas for further training in the United Kingdom. He landed on Omaha Beach on day 3 of the Allied invasion of Normandy. Frank and his unit stayed with the 1st Army through all five major campaigns of the war, including the Battle of the Bulge. They advanced through Europe, encountering towns demolished by bombs and combat, all the while ensuring that important information about troop movements and supplies was transmitted. Before the end of the war, Frank visited Buchenwald concentration camp where American troops had liberated more than 21,000 prisoners in April 1945. After the war, Frank returned home to Georgia where he started a family and attended night classes at Atlanta Law School. He remained in the National Guard for 35 years. He passed away on December 23, 2014.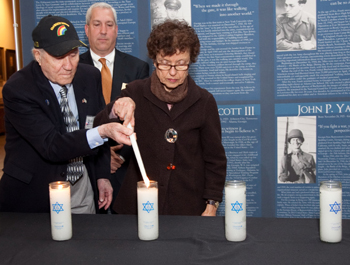 (Left to right: Hilbert Margol, Sandy Springs Councilman Andy Bauman, Paula Neuman Gris)
Paula Neuman Gris  • Holocaust survivor
Introduced by Andreas Maager, Consul General of Switzerland
Paula Neuman Gris was born in Czernowitz, Romania, an area that is now the Ukraine. After the war began, Paula's family was forced to leave their home and move to the Czernowitz ghetto. In 1940, Paula's father, Simon, was taken away. He never returned. In the summer of 1941, the area in which the Neuman family lived was conquered by German and Romanian troops. Romania was given the territory between the Dniester and Bug Rivers, a region dubbed "Transnistria." The Romanian army and police, in support of German SS and on their own initiative, massacred thousands of Jews in Bessarabia, northern Bukovina, and Transnistria. In October, those left alive and in nearby ghettos were deported to Transnistria. Paula, her mother and infant sister were among those deported there. Four-year-old Paula cared for her sister while her mother reported for forced labor. In March 1944, the Soviet Army began liberating the region. The family lived in displaced person camps in Germany and the United Kingdom between 1946 and 1951 while awaiting immigration papers. In 1951, they arrived in the United States and made their home in Bronx, New York. Paula met her husband and they later settled in Atlanta. Paula completed her degree summa cum laude in early education from Georgia State University. Her and her husband have 5 children and 10 grandchildren.
Hilbert Margol • Liberator
Introduced by Representative Tom Taylor
Hilbert and Howard Margol, identical twin brothers, were born in Jacksonville, Florida. They were freshmen at the University of Florida and enrolled in the ROTC when they were called to active duty. Despite military policy prohibiting brothers from serving in the same combat unit, their mother wrote to President Roosevelt requesting that her sons be allowed to serve together. Her special request was granted. Howard joined Hilbert in the 42nd Infantry Division. In January 1945, they landed at Marseille, France. On April 29, 1945, the brothers and their unit reached Dachau where they liberated over 32,000 survivors in the camp. The brothers recall, "As soon as we saw the ovens, we understood the source of the smell. At that time, we did not fully understand the gut-wrenching experience of Dachau or fully comprehend the meaning of what we observed. We had been ignorant of the existence of the camps." After being discharged from the Army in April 1946, Hilbert returned to Jacksonville and completed his college education. He married, started a family, and became a successful businessman in Atlanta. He and his wife live in Dunwoody.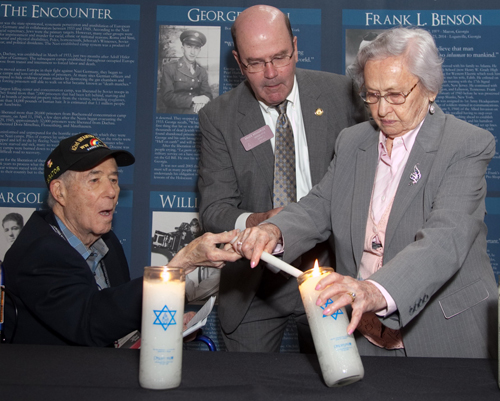 (Left to right: Howard Margol, Representative Bruce Broadrick, Elizabeth Lefkovits)
Elizabeth Lefkovits • Holocaust survivor
Introduced by Genevieve Verbeek, Consul General of Belgium
Elizabeth Lefkovits was born in Földes, Hungary, near the Romanian border. During the 1930's, Hungary fell increasingly under the influence of Germany's Nazi regime. Elizabeth was not able to pursue a university education due to a quota placed on Jewish students. Hungary joined the Axis alliance in November 1940. On March 19, 1944, the Germans moved into Hungary in order to forestall the Hungarian Prime Minister's efforts to negotiate a separate armistice with the Allies. Fifteen days after the occupation, all the Jews in Elizabeth's town were ordered to move into the ghetto. In June 1944, Elizabeth, her sister, and 2-year-old nephew were taken to another ghetto and labor camp. From there they were deported again to Auschwitz concentration camp where Elizabeth and her sister saw their father for the last time. Elizabeth was again deported to a labor camp in Breslau, Germany. In January 1945, Elizabeth was among those forced on a death march, walking over 18 miles each day for a week, without food or water, in brutal winter conditions. She was liberated by the Soviet Army in June 1945. She returned to Hungary and learned that 83 members of her family, including her parents and two sisters, had not survived. She met her husband and in 1949. They escaped the Communist regime in Hungary, fleeing to Vienna with fake passports. They moved to Venezuela where they lived for 18 years before relocating to Florida in 1980. Elizabeth now lives in Atlanta. Elizabeth and her husband have 2 children, 6 grandchildren, and 6 great-grandchildren.
Howard Margol • Liberator
Introduced by Sandy Springs Mayor Rusty Paul
Howard Margol and his identical twin brother, Hilbert, were called to active duty in March 1943. They were separated on assignment; Howard to the 104th Infantry in California and Hilbert to the 42nd Infantry in Oklahoma. After their mother's special request was granted, Howard joined Hilbert in the 42nd Infantry Division, nicknamed "Rainbow" to reflect the composition of the unit which was drawn from the National Guard of 26 states and the District of Columbia. The brothers fought side by side as their unit advanced through France and Germany. As they grew closer to Dachau they discovered cattle cars packed with the corpses of people who had been transported from other camps then left on the tracks near Dachau by retreating SS. Howard and his brother, who had seen the carnage of war, knew that what they were seeing at Dachau was something different. After being discharged from the Army in April 1946, Howard returned to Jacksonville and completed his college education. He married, started a family, and became a successful businessman in Atlanta. He and his wife live in Sandy Springs. As survivors and liberators become fewer in number, Howard and Hilbert tell the story of what they witnessed to future generations because they strongly believe the world must never forget.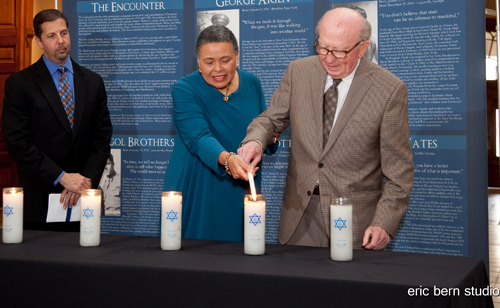 (Left to right: Board member Steve Sutton, M. Alexis Scott, Murray Lynn)
Murray Lynn  • Holocaust survivor
Introduced by Peter Taylor, Consul of Political and Economic Relations for Canada
Murray Lynn was born in Bilke, Hungary – an area that is now part of the Ukraine. In 1942, when Murray was 12 years-old, the Hungarian secret police burst into his house and arrested his father. He and the town's Jewish leaders were later shot. In April 1944, the Arrow Cross Party which shared an ideology similar to that of the Nazis, surrounded the town and forced the Jews into a ghetto. From there, Murray and his family were deported to Auschwitz-Birkenau. His mother and three brothers were murdered in the gas chambers. Murray was forced to work 12-hour days at construction sites. In mid-January 1945, as the Soviet Army was approaching the camp, the SS evacuated able-bodied prisoners on a death march. SS guards shot anyone who fell behind or could not continue. The prisoners suffered from cold weather, starvation, exhaustion, and exposure. Murray was liberated by American forces in April 1945 at the age of 15. He was sent to a hospital to recover. He returned home to find that his family had not survived. He joined a group of other young, orphaned survivors and traveled to England then Dublin, Ireland. In 1948, Murray came to the United States by way of New York before settling in Atlanta. He met his wife, married, and began his career. Murray and his wife have 2 children. 
M. Alexis Scott in honor of William Alexander Scott III • Witness
Introduced by Attorney General Sam Olens
William Alexander Scott III, "W.A.", was born in Johnson City, Tennessee. His father moved the family to Atlanta and, at the age of 26, he founded the oldest black-owned daily newspaper in the United States – The Atlanta Daily World. W.A. was a Business and Math major at Morehouse College and engaged to his childhood sweetheart, Marian, when he was called-up for military service. At the time, the United States Army, like much of the nation itself, was segregated. W.A. was assigned to the 183rd Engineer Combat Battalion in the S-2 Intelligence Section. He and Marian married just before he was shipped overseas in 1944. In April 1945, W.A. visited Buchenwald on an Army convoy with the 8th Corps of General George S. Patton's 3rd Army. W.A. took photographs of the atrocities for which the Nazis were responsible at the camp. After the war, he returned to Atlanta, completed his education and started a family. On July 16, 1948, racial discrimination in the armed forces was abolished by Executive Order from President Harry Truman. W.A. became circulation manager of The Atlanta Daily World and remained an active member of the Atlanta community throughout his life. He passed away on March 7, 1992.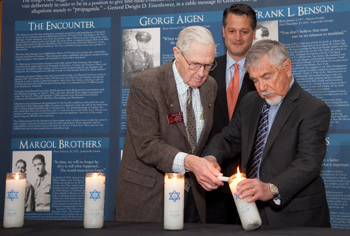 (Left to right: Representative John Yates, board member David Rubenstein, Ben Walker)
Ben Walker  • Holocaust survivor
Introduced by Ron Brummer, Deputy Consul of Israel
Ben Walker was born near Czernowitz, Romania, an area that is now the Ukraine. Even before Romania fell into the orbit of Nazi Germany, Romanian authorities pursued a policy of harsh, persecutory antisemitism--particularly against Jews living in eastern borderlands. In September 1940, after King Carol II was forced to abdicate, a coalition government of radical right-wing military officers came to power and requested the dispatch of a German military mission to Romania. On November 20, 1940, Romania formally joined the Axis alliance. In 1941, Ben and his family were deported to Transnistria. Romanian authorities established several de facto ghettos and two concentration camps in the region. Between 1941 and 1944, German and Romanian authorities murdered or caused the deaths of between 150,000 and 250,000 Romanian and Ukrainian Jews in Transnistria. Ben and his mother were the only members of his family to survive. His father, sister, uncles, and grandparents perished. After the war, Ben and his mother immigrated to Israel. Ben served in the Israel Defense Forces. In 1956, Ben joined his mother in Florida where he attended college and met his wife. The couple moved to Atlanta in the late 60's. They have two daughters and two grandchildren.
Representative John Yates • Witness
Introduced by Representative Sharon Cooper
John Yates was born in Griffin, Georgia. He was raised on a farm during the Great Depression and graduated from Spalding High School. He was living in Los Angeles, California, with his wife, Annie, and their daughter when Pearl Harbor was attacked. He was drafted and selected for officer candidate school. He signed up to be a liaison pilot and chose an outfit he thought likely to go to Europe – the 35th Infantry Division. In the spring of 1945, John participated as a military observer in the liberation of Dachau. For his courage in flying over 200 missions near or over enemy lines, John was awarded six air medals and four battle stars. He entered the Army with the rank of private and by the end of the war he had been promoted to captain. After returning home from the war, John completed a degree program at Georgia State University. He has served in the Georgia House of Representatives for over twenty years and chairs the Defense and Veterans Affairs Committee. In 2013, United States Army Captain and State Representative John Phillip Yates was inducted into the Georgia Military Veterans' Hall of Fame for his valor, outstanding leadership, and his exemplary life of selfless service to our nation. John is the last World War II veteran serving in the Georgia General Assembly.