Each year at the State Official Days of Remembrance observance, six candles are lit by Holocaust survivors, second generation surivors, Rescuers, and Liberators to commemorate the victims of the Holocaust.
Archive
We Light Our Candles
We light our candles by passing the light of memory and hope from one to another. Let us honor those whose lights were put out, whose dreams, hopes and lives were snuffed out before they even lived, for the one and one half million children.
We light a candle for the untold millions for whom there is no one to mourn, whose entire families were annihilated and who lie in unmarked graves.
We light a candle for those who stood upright while others were bending to unmoral will. For the Righteous Among the Nations who risked and even gave their lives to help their fellow human beings.
We light a candle for those brave soldiers who liberated the camps; who carried the dead and near dead in their arms to a kinder and more humane future and for those who served with the allied forces to put an end to tyranny and oppression.
We light a candle for the nearly six million Jews and for the six million non-Jews who perished in a planned system of human destruction, the scale of which had never before been even imagined.
We light a candle for those who live even now under the yoke of oppression, in places where the threat of genocide is real and ever present.
-Unknown
2014 Candle Lighters
Herbert Kohn: Holocaust Survivor

read by the Honorable Secretary of State Brian Kemp
escorted by Georgia Supreme Court Chief Justice Hugh Thompson
Herbert Kohn was born in Frankfurt am Main, Germany, in 1926. At the age of 6, Herbert was forced to leave school after raising his hand when his teacher asked who was Jewish. That was only one of the many discriminatory policies the Nazis enforced on German Jews. Herbert's father began trying to make plans for his family to seek refuge in the United States. In 1937 they received the required visas but were not able to leave due to strict immigration quotas. 
Herbert's father was arrested on Kristallnacht. After weeks in Buchenwald concentration camp he was able to return home because had a certificate proving he had fought for Germany as a front-line soldier in World War I. He left for England the very next day. Herbert's brother followed shortly after. In May 1939, Herbert and his mother were finally able to join them. 
In April of 1940 Herbert and his family were finally able to enter the United States under the sponsorship of a distant cousin. Rather than settle in a big city, Herbert's father chose to learn how to farm and settled in Demopolis, Alabama. Herbert earned 25-cents a week milking cows every morning. Upon his arrival in the South, however, Herbert noticed a similar kind of segregation to that of the Jews in Germany - the segregation of African-Americans. Herbert became inspired to fight injustice and ensure equality and freedom for all.   
In appreciation for the safety and security he found in this country, in 1945 Herbert volunteered for the U.S. Army. After the war he remained in the reserves and rose to the rank of Lieutenant Colonel. Herbert and his family learned that most of the family that remained in Germany was murdered in the Holocaust.  
Herbert received an agricultural degree from Auburn University and became an accountant. He is now retired from both his accounting business and from the building industry where he worked to provide affordable homes to low-income families.
Herbert has five children and 11 grandchildren. 

read by Vice Dean of the Atlanta Consular Corps and Consul General of Ireland Paul Gleeson
escorted by Consul General of Haiti Gandy Thomas
Henry Gallant was born in Berlin, Germany. After the relentless persecution of German Jews after Hitler took power, his parents attempted to emigrate.  They were able to acquire landing permits for Cuba and so they bought passage on a German transatlantic liner, the S.S. St. Louis.  The liner, which departed on May 13, 1939, carried more than 900 passengers, nearly all of whom were Jewish refugees. Upon their arrival in Havana, the Cuban government revoked their permission to land and the refugees were refused entry. The ship circled the eastern cost of Florida but was denied entry to the United States. This left the ship captain with no other choice but to return to Europe. Great Britain, France, Belgium, and the Netherlands allowed passengers to disembark. When the S.S. St. Louis finally docked on June 17, 1939 in Antwerp, Belgium, Henry was sent to a children's home near Paris.
Henry's father was imprisoned in Gurs internment camp in France before being taken to Drancy transit camp outside Paris. From there he was sent to Auschwitz. Henry never saw his father again. 
Henry and his mother moved to Nice in the south of France and were safe there until August of 1942 when the Vichy government, collaborating with the Nazis, began deporting French Jews. 
After buying false papers, Henry and his mother went into hiding. A non-Jewish family permitted Henry and his mother to stay in their attic until they were able to cross the Alps into Switzerland. Henry was placed with local families while his mother lived in a refugee center nearby. Henry began training in the culinary arts at the Swiss Hotel School. 
After arriving in New York, Henry sought and was accepted for employment at the famous Greenbriar Hotel in West Virginia. In 1949 he enlisted in the United States Army. He served for one tour of duty in the Air Force.
After his return to the United States, Henry became Captain at the Waldorf-Astoria Hotel's Empire Room. He remained there for ten years before moving with his wife to Atlanta where he founded his own catering company, serving customers in Atlanta for over 30 years.
Henry has one son and a granddaughter.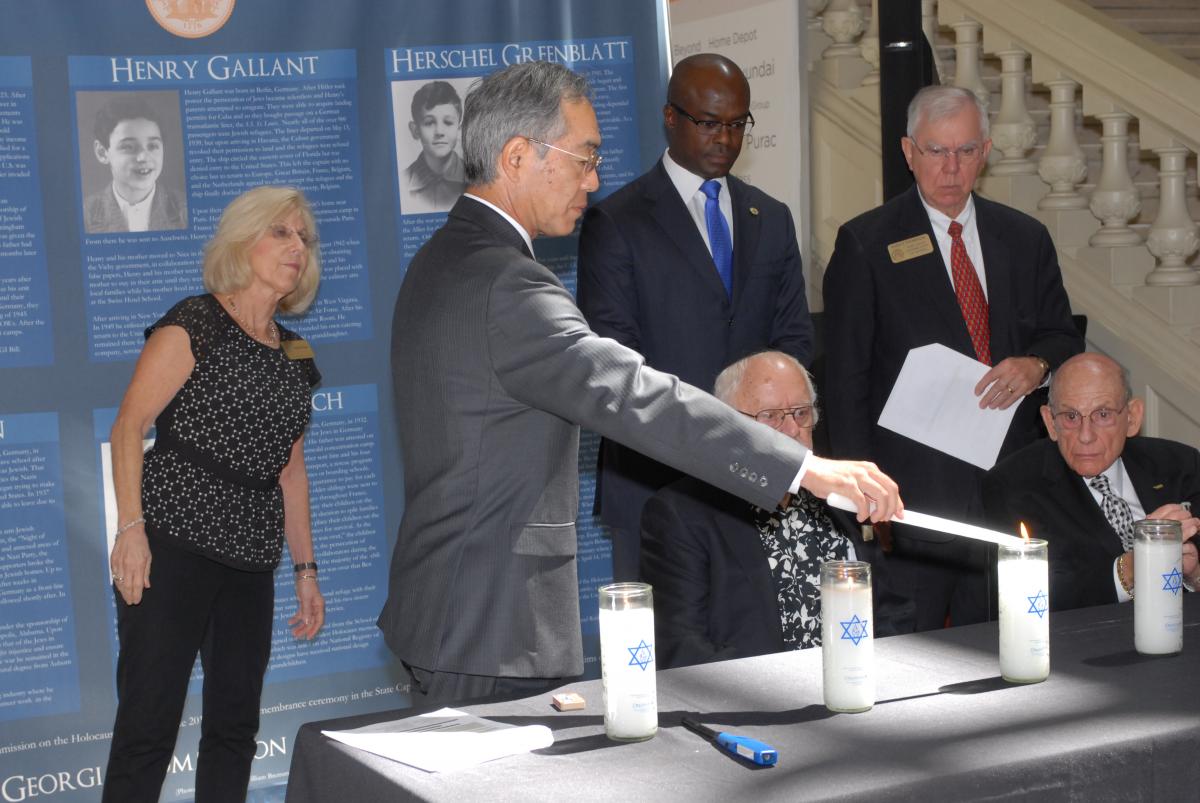 read by the Consul General of the Republic of France Denis Barbet
escorted by Consul General of Japan Kazuo Sunaga
(Ben was unable to join us today so Consul General Sunaga will light the candle on his behalf.)
Ben Hirsch was born in Frankfurt am Main, Germany, in 1932. His father was arrested on Kristallnacht and imprisoned at Buchenwald concentration camp. Ben was just 6 years old when his mother sent him and his four older siblings to Paris via the Kindertransport. They lived separately in various children's homes and orphanages throughout France. In June 1941 his two older brothers escaped to the United States where they found refuge with their mother's cousin, a rabbi in Rome, Georgia. In September of that same year, Ben and his two sisters followed.
They arrived in Atlanta under the sponsorship of the Jewish Children's Service. It was not until the war was over that they learned their parents and younger brother and sister did not survive Auschwitz.
Ben enlisted in the U.S. Army and served from 1953 to 1955. In 1958 he graduated from the School of Architecture at the Georgia Institute of Technology. He designed one of the oldest Holocaust memorials in the country, the Memorial to the Six Million in Atlanta – which was listed on the National Registry of Historic Places in 2008. Many of Ben's religious architecture designs have received national design awards. 
Ben has four children and eighteen grandchildren.

Henry Birnbrey: Holocaust survivor

read by Consul General of the Federal Republic of Germany Christoph Sander
escorted by Deputy Consul of Mexico Edurne Pineda
Henry Birnbrey was born in Dortmund, Germany, in 1923. After the rise of the Nazi party and Hitler's assumption of power in Germany, his father was accused of making statements against the government and was subsequently arrested. He was released only after he was forced to promise that he would abandon his business, leaving him unable to provide any income for his family.  From 1937 to 1938 Henry's parents applied for a visa so that Henry could leave Germany. They submitted applications to Palestine, New Zealand, and the United States. The U.S. was the first to grant an emergency visa, the very week Hitler invaded Austria in March 1938. 
Henry left his family at the age of 15. He travelled as an "unaccompanied minor" to the U.S, under the sponsorship of the Birmingham Chapter of the American Council of Jewish Women. He was placed in foster homes, first in Birmingham and then in Atlanta.
Upon his arrival in Atlanta, Henry was given the news that his father was dead. Back in Germany, his father had been arrested again on Kristallnacht and died a few months later from the wounds he sustained that night. Henry's mother died shortly thereafter.
Although Henry had support from the community, it was important to him that he provide for himself. His first job in Atlanta was as a clothing store clerk near Five Points.  In 1943, just five years after leaving Germany, he joined the U.S. Army. He participated in the Normandy invasion and as his unit advanced through Europe he witnessed the persecution of Jews at the hands of the Nazis and their collaborators. They passed corpses from death marches left in ditches. Near Magdeburg, Germany, they found cattle cars still full of concentration camp inmates, both dead and alive. In spring 1945 Henry became a counter intelligence agent, responsible for the interrogation of German POWs. 
After the war Henry learned that almost his entire family had died in concentration camps. Only two first cousins on his mother's side and two first cousins on his father's side had escaped in time to survive. He signed affidavits for two of these cousins to come to America.
Henry opened an accounting firm in Atlanta in 1946 and then went to law school on the GI Bill. He has four children, 25 grandchildren, and 8 grandchildren. 

read by Mayor Rusty Paul of Sandy Springs
escorted by Honorary Consul of the Czech Republic George Novak
Karen's mother, Lola, was born in Łódź, Poland in 1926. Hitler invaded Poland in September of 1939. Lola and her siblings were sent to stay with their grandparents in their country home. 
In 1941, German doctors arrived in the village, forced the Jews into a public school and ordered them to undress. They were inspected by the doctors and stamped with an "A" or "B". Those stamped with a "B" were sent away. Among them were Lola's grandparents, aunts, and cousins. She never saw them again. It was later discovered that they had been sent to Chelmno extermination camp while those stamped with an "A", including Lola, her father, stepmother, and siblings, were sent to the nearby town of Ozorkow.  There they were placed in an apartment with another family before they were moved into the Łódź ghetto where conditions were worse. Barbed wire fencing surrounded the ghetto and arrests were common. By the spring of 1944 it was the last ghetto in Poland before it was finally liquidated. Lola and her family were among the last Jews to be deported to Auschwitz. 
Upon arriving at the camp, Lola lied about her age during the selection. Her father and brother were separated from Lola, her sister, and stepmother. A few months later the women were put on a transport to Ravensbrück concentration camp. From there they were transported to a sub-camp of Buchenwald, then transported again to Bergen-Belsen concentration camp. During that time, Lola's stepmother contracted pneumonia. She was placed in the infirmary where Lola and her sister remained with her, sleeping under her bed. 
Lola's stepmother died on April 14, 1945 – just one day before the camp was liberated by British forces. Having survived the ghetto and camp, Lola considered April 15, 1945 her second "birthday". In June 1945 Lola discovered that her father and brother had survived and were living in Munich. They reunited and a year later moved to New York. 
Rubin Lansky, a fellow survivor with whom Lola had fallen in love at a displaced person's camp, followed them to the United States. Rubin was born in Ozorków, Poland, in 1923. He was arrested at the age of 17 and forced to work as a slaved laborer. He was imprisoned at Buchenwald and Stutthof concentration camps. He was able to obtain false papers and escaped just as the Soviet Army was advancing on Czechoslovakia. He was the only member of his family to survive. 
Lola and Rubin moved to Atlanta in 1953. In 1964, Lola co-founded Eternal Life-Hemshech, an organization of Holocaust survivors and their families.  Lola passed away in 1999 and Rubin in 2005. They have two children and six grandchildren.

read by Rabbi Peter Berg
escorted by Senator Butch Miller 
Herschel Greenblat was born in the Ukraine in 1941. The German invasion of the Soviet Union had already begun and Herschel's parents moved frequently to avoid capture. The first two years of Herschel's life were spent hiding in a cave. Herschel's parents and their fellow refugees in hiding depended on food scavenged from nearby farms. Harsh winter temperatures made conditions in the cave barely survivable. As a result, Herschel contracted diphtheria and tetanus, but somehow survived without medicine. 
Herschel's early memories are that of being carried by his father through areas of destruction. While still in the Ukraine his mother gave birth to a second child, a daughter. At the war's end, Herschel, his parents, and his sister were transported from Russia to American-controlled Salzburg, Austria.
After the war several hundred thousand survivors remained in Europe in camps for displaced persons established by the Allies. The majority of the refugees no longer had homes to which they could return. Others wanted to leave Europe and the painful memories of the war and the Holocaust behind them.  They hoped to create new lives elsewhere.  Many remained in the Displaced Persons Camps until they had destinations and permission to emigrate.
Herschel and his family lived in these camps in Austria for five years until they received permission to come to the United States.They arrived on the ship, the U.S.S. General Ballou. Herschel clearly remembers his father pointing out the Statue of Liberty as they pulled into New York Harbor.The family came directly to Atlanta with only $80 in their pockets.  The Atlanta Jewish community helped them begin a new life.  Herschel's father ran a grocery store in downtown Atlanta for many years.  
Herschel and his wife have two sons and four grandchildren.

Gail Cohn in honor of her father, Judge Aaron Cohn: Liberator
The Honorable Judge Aaron Cohn was born and raised in Columbus, Georgia where he developed a sense of justice and prevailed over prejudice to become a respected leader in his hometown, at the University of Georgia, throughout the state and in the United States Army.  
Judge Cohn volunteered for the United States Army in the summer of 1940 and served in four major campaigns. As a Major in the 3rd Cavalry, he served under General George Patton and fought across France from Normandy to Metz, Germany, where he broke through German defenses and overwhelmed the retreating Nazi army.
Colonel Cohn was among the liberators of the Ebansee concentration camp in Austria. In 1946, after leaving the army, he resumed his law practice.
In 1965, Cohn became the Juvenile Court Judge and remained the presiding Judge of the Chattahoochee Judicial Circuit until his retirement in 2011. It was his love of children and passion for the underdog that resulted in a long, rewarding career. He remained steadfast in his commitment to preserving justice. He was a beloved jurist and regarded as a patriot by all who knew him. In 1983, Georgia legislators passed a resolution commending him for his distinguished service to the state. He retired in 2011 as the longest serving Juvenile Court Justice in the country; he was 95.
The Holocaust exhibit at the National Infantry Museum at Fort Benning, Georgia, was created in honor of Judge Cohn. The exhibit pays tribute to the 35 American infantry and armor divisions that liberated the concentration camps on the Western front. Judge Cohn died on July 4, 2012.  His daughter Gail Cohn says, "He was a hero because he lived his values and was a moral compass for all who knew him."

Susan Segall in honor of her father, Laurence A. Grossman: Liberator
Laurence A. Grossman was a medical officer with General Patton in the 10th Armored Division of the United States Army. This division was known as "the Tigers." Dr. Grossman trained at Camp Gordon in Augusta, Georgia, and was assigned to Fort Benning.
Dr. Grossman and the 10th Armored Division troops were the first Americans to disembark on French soil. The Division saw fierce combat in France and the Battle of Bastogne in Belgium. When they reached Germany, Dr. Grossman witnessed the first evidence of concentration camp victims and the devastating atrocities for which the Nazis were responsible.
As he drove into the heartland of Bavaria, the "Tiger" division overran one of the many subcamps of Dachau concentration camp, the first camp established by the Nazis immediately following Adolf Hitler's appointment to chancellor of Germany in January of 1933.  The United States Holocaust Memorial Museum reports, "the 10th Armored Division was recognized as a liberating unit by the U.S. Army's Center of Military History."
What Dr. Grossman witnessed of the Holocaust changed his life. When he returned from the war and started a medical practice in Nashville, he integrated his office and staff, which resulted in death threats against him due to his strong stand against segregation. He truly was a hero to his family and community.

Bert Lewyn: Holocaust survivor
(with grand-daughter)
Bert Lewyn was born in Berlin. In 1942, when Bert was 18, the Gestapo knocked on the door of the Lewyn family's home.  Bert, his mother and father were arrested and taken from their home.  His parents were deported to a concentration camp and Bert was conscripted as a slave laborer, forced to work in a weapons factory building machine guns for the German Wehrmacht.  
His memoir "On the Run in Nazi Berlin" describes his many miraculous escapes and his struggle to survive on his own in Nazi controlled Berlin. He refers to that time of his life as living "in the belly of the beast."
Bert's courage, determination and cleverness brought him to freedom. After Germany was liberated, he spent three years in a displaced person's camp in Bavaria until an army chaplain in Munich contacted him with information that someone in Atlanta, Georgia, was looking for his father. After some correspondance, Rabbi Tobia Geffen sponsored Bert's travel to America in 1949.
Bert met his beloved wife, Esther, in Atlanta and founded Lewyn Machinery Company. Bert and Esther have five children and many grandchildren. Bert is a board member on the Georgia Commission on the Holocaust.

Steven Low: Holocaust survivor
In May of 1940, when Steve was two years-old, he and his parents were refugees of Berlin, Germany. They arrived in Shangai, China, which at the time was the only country in the world that allowed European refugees without a visa.
Steve says, " My recollection as a child was more vivid during the last three years of the war, the period when the Japanese interned us in a ghetto. I remember the constant bombing by US and British planes, day and night, as they attempted to destroy Japanese facilities. There was the whistling sound of bombs falling, and the loud explosions. Life was hard and food was scarce. Diseases, including typhus, were rampant. A daily pass was required to leave the ghetto.  My dad managed to find work outside the ghetto.We were at the mercy of the Japanese in command, who would arbitrarily approve or deny the daily pass. I recall going to school, which was outside the ghetto, but I always had to prepare to quickly return home from school to take cover on the first floor of our apartment building whenever an air raid alarm was sounded. To this day I still get frightened whenever I hear a siren. Once there was a direct hit on an apartment building a block away from our building. My father and I, together with other men, helped put out fires by passing water buckets from one to the other on long lines.  When the war was finally over, the excitement among all of us in the ghetto was immeasurable. However, it was quickly dampened when we were all told about the Holocaust in Europe and the fate of most of our relatives.  We remained in Shanghai for two more years after the war until we were able to get a visa to enter the United States in July, 1947. When the communists took power, all the refugees had to leave China. We were lucky to enter the United States."

Dory Profis: Holocaust Survivor
(with daughter, Loli Gross: Second generation Holocaust survivor)
Dory Profis was born May, 1925,  in Constantza, Romania. When the Nazis invaded the country in October of 1940, Dory was sent to three work camps in Romania. Her oldest sister chose to stay with her Polish husband; they were both sent to the Ukraine and never heard from again.
Dory, her mother and remaining sister, who had developmental disabilities, planted and harvested potatoes and vegetables in the work camps for 12 hours a day. At night they slept on hay in a stable. After the war, they returned to Constantza to find that their home had been seized.  
Dory met her husband, Gerald Profis, in her home town. Gerald was born in Lublin, Bessarabia, in 1914. He was drafted into the Romanian army, captured by the Russians and sent to Siberia until the end of the war. He was determined to emigrate to America so he traveled to Constantza, a port city, to look for a ship. The two survivors met and their plans changed.  Gerald left for Cuba where he had a brother. Dory and her sister had to remain behind because Cuba would not accept her sister due to her disability. When Gerald returned for Dory, she refused to leave her sister behind. So Gerald, Dory,her mother and her sister moved to Israel in 1950. Gerald and Dory married and had a son.
In 1953, Dory and Gerald moved to Cuba, leaving her mother and sister behind in Israel. The couple's second child, Loli, was born the following year. To escape Castro, the couple and their children moved to Dothan, Alabama, then Milwaukee, Wisconsin before finally settling in Atlanta in 1965.

John Silva: Holocaust survivor
John Silva was born in Berlin, Germany, in 1921. He was forced to leave public high school in 1935, after the Nazis had come to power, In 1935. He completed his education at a Jewish high school. During Kristallnacht, the "Night of Broken Glass" in November of 1938, John's father was arrested. John as 17 at the time. The day after his father's arrest, he fled Germany, making sure to take his stamp collection with him. He was the only member of his family to escape the consuming fire of persecutation at the hands of the Nazis and their collaborators. When the war was over, John learned that his mother and sister had disappeared after being deported in 1942.
Following his escape from his own homeland, John travelled through Italy, France, Spain, Venezuela, Panama, and Peru before arriving in Bolivia with only his tourist visa to identify him. He was told that if he wanted to remain in the country he must colonize the Bolivian jungle. He eventually made his way to Argentina then to Uruguay, where he married and learned the wool trade.
John emigrated to the United States in 1947 under the Truman administration's policy of granting admission to children who had lost parents during the war. He became a very successful businessman, served as director and arbitrator for the American Arbitration Association of New York and later volunteered with Catholic Social Services' immigration clinic.  
John's work with refugee and migration services reflects his enduring spirit for those striving to begin a new life in unfamiliar surroundings.
2012 Candle Lighters
Mary Bos: Holocaust survivor and childhood friend of Anne Frank

Mary Bos was born in Amsterdam to a Dutch father and an American mother. As a young girl, she attended the Montessori School in Amsterdam with Anne Frank. Mary was a guest at Anne's 10th birthday party. There is a photo taken by Otto Frank of Anne, Mary, and seven others girls at party which can be seen on panel 41 of the Anne Frank in the World exhibit. Anne references Mary in her diary and Anne had also signed Mary's autograph book. Mary's father was a famous billiards player, a national sport in the Netherlands at the time. He refused matches against any opponent connected with Hitler and even made statements against the Nazi leader's military aggression. As a result he was put on a hit list and it turned out that the family's made was a Nazi spy. In 1939, the American Consulate issued a letter to Mary's family to leave Holland. The family left in secrecy for the safety of the United States in February of 1940. In May, the Nazis invaded Holland. Click here to read more...
Charlotte Janis: Second generation Holocaust survivor

Charlotte Janis mother, Gertrude Bickart Herman, was born in Munich, Germany in 1916. She was educated as a kindergarten teacher and in 1936 was sent to Spain to avoid the rising madness in Germany. Gertrude returned to Germany when her father died. She met and married her husband Kurt in 1938. They quickly fled Germany and went to Cuba to wait for a visa number to enter the United States. Charlotte's grandmother never left Germany, but later she was shot in the forest by the Nazis. Charlotte's father's parents and sister left Germany aboard the infamous ship S.S. St. Louis in 1939. They had landing papers for Cuba, but the papers were not honored. Their fate brought them to Brussels for four years and then they fled to France by train. The train was bombed, they were injured and later were sent to Auschwitz where they died. Charlotte's parents eventually came to Miami, Florida and then moved to Pensacola Florida where they lived for 40 years running a photography business and raising two children. Her father died in Florida and Gertrude moved to Atlanta to be with her children and grandchildren. She died in 2008 at the age of 92. Gertrude is remembered for her love of family, strong values and wisdom.
Stanley Lefco: Second generation Holocaust survivor

Stan Lefco's uncles and parents, Holocaust survivors now deceased, were born in Sosnowiecz, Poland. The last camp Stan's mother was in was Bergen Belsen, the same camp where Anne Frank died. She lost her parents, three brothers and other family members. Stan's father survived the Buchenwald concentration camp, but lost his first wife and 2 young children. After liberation, they met in a Displaced Persons Camp in Germany where Stan was born. The family then immigrated to Virginia in 1949 and later moved to Atlanta to be near their son. Stan frequently shares his parents' story with school groups.
Dr. Eugen Schoenfeld: Holocaust Survivor

Eugen was born in 1925 in Mukacevo, Czechoslovakia and graduated with a Baccalaureate in Mukacevo. From 1944 to 1945 Dr. Schoenfeld was interned as a prisoner at Auschwitz, Dachau and Muehldorf concentration camps. After liberation, he attended medical school in Prague for only one year. He then immigrated to St.Louis where he received a master's in Sociology from Washington Universit. He continued his studies and earned a PHD from Southern Illinois University. Dr. Schoenfeld is a professor and Chair Emeritus of the Department of Sociology at Georgia State University. Upon retiring, he continues to travel and speaks to students, and diverse civic groups on his lifetime experiences. He has written two books, My Reconstructed Life and Faith and Conflict.
Rebeca Glinsky: Second generation Holocaust survivor

Rebeca Glinsky was born in Camaguey, Cuba. Her parents were fortunate to flee from the Ukraine and Poland to Cuba before the war began. In 1939, Rebeca's parents received their last letters from their brothers, sisters and parents. Within 3 years they were all murdered. Rebeca never got to know her grandparents and extended family. As a child, Rebeca remembers her parents' suffering and solemn silence when she asked questions. Rebeca is a docent at the Anne Frank exhibit and says that she helps other people understand that such an evil must be opposed. Rebeca recently celebrated 50 years living in the United States and proudly states that she has never taken for granted that her children and grandchildren live in this country.
Bob Monette and Dr. Morton Waitzman: Liberators

Bob Monett was a candle lighter for his uncle and surrogate father W.W. Wilkins. Mr. Wilkins rose from a 2nd lieutant to the rank of Colonel during his service in Europe. He earned ten citations for bravery in combat, a Bronze Star with Four Oak Leaf Clusters and two Purple Hearts. For Mr. Wilkins, the most redeeming event during the years in war was the liberation of several camps including the Buchenwald and Mauthausen concentration camps in Germany. He witnessed first hand the cruelty of the Nazi regime and for him these events validated his military service.
Dr. Morton Waitzman was with the 29th Infantry Division and landed on Normany, D-Day, June 6, 1944. Dr. Waitzman was part of the group that liberated several small camps in Germany and also captured the home of Joseph Goebbels, Minister of Propaganda, where soldiers held a Passover Seder. Dr. Waitzman and his unit liberated the concentration camp Doramittelbau, a sub camp of Buchenwald where the slave laborers were forced to build V-2 rockets underground. When the the camp was freed, the main supply of Nazi weapons was diminished. After the war, Dr. Waitzman completed his PhD a the University of Illinois. In 1962 Dr. Waitzman and his family moved to Atlanta and he became Director of Opthamalogy Research at Emory University.
---
2011 Candle Lighters
Martine Bookman: Second-generation Holocaust survivor
Martine Bookman's mother and father are both Holocaust survivors. They were born in Alsace, France, on the German border. On September 1, 1939, they were suddenly evacuated from their homes along with their families as Hitler began his invasion of France.
Martine's mother and her family survived by living in a small village in the interior of France and befriending the local police who would warn the family of impending round-ups.
Martine's father's story of survival has been documented by Steven Speilberg's Shoah Foundation. His story includes time spent in a labor camp as well as a French Hitler Youth school where his Jewish identity was kept secret.
Both of Martine's parents, like so many survivors, lost many family members and friends in the Holocaust. Martine never knew her paternal grandfather because upon his arrival to Auschwitz he was sent directly to the gas chambers. It was not until the early nineties that the family learned that his exact date of death was March 17th, 1944. The Germans had kept the records but they were not released for fifty years. 
Dr. John Galambos: Holocaust survivor
Dr. John Galambos was born in Budapest, Hungary. At the beginning of the war, he was transported to a Hungarian Labor Camp. Later he was transported to Bergen Belsen concentration camp in Germany until he was liberated by U.S. troops. His mother and other relatives were in different sections of the camp but they did not survive. John emigrated to the U.S. in 1947 and attended Emory University School of Medicine and graduated in 1952. Dr Galambos is a retired gastroenterologist.
Jake Goldstein: Liberator
Jake Golstein is a native of Milledgeville, Georgia. He was part of the 71st Division of General Patton's 3rd army. Captain Goldstein was one of the liberators of the Gunskirchen Camp which was a satellite camp of the Mauthausen complex. An estimated 15,000 persons of all ages, almost all Hungarian Jews, were still alive upon liberation. Captain Golstein returned from the war with two Bronze Stars for his combat duty. Upon return, Mr. Goldstein completed his last year of college at the University of Georgia and became a businessman in Milledgeville.
Jay Vandiver: Eyewitness
Jay Vandiver was a Technician Third Class assigned to the automotive maintenance and support of the 42nd Infantry Division. On April 29th, 1945, he was a member of the group that entered Dachau concentration camp via the railroad bridge. He was an eyewitness to the liberation and still has tragic memories of the mere site of the gas chamber, crematorium and inhuman conditions.
Manya Dembrosky: Holocaust survivor
Manya Dembrosky was born in 1938 in Poltusk, Poland. In September of 1939, when Hitler invaded Poland, the Nazis came into her village and forced all the Jews to leave their homes. Manya and her parents walked through the Polish countryside taking refuge wherever they could. Somehow, the family was placed on a train to Russia. Manya and her mother never saw her father again after boarding that train. When he went to say goodbye to his mother he disappeared. It is believed that he was conscripted into the Russian Army.
Manya and her mother spent the war in Russia where her mother gave birth to another girl who died very young. After the war, Manya and her mother attempted to return to Poland but the anti-semiticism was so strong that they left. Manya remembers being led at night over a mountain range into Germany and being told to be absolutely quiet or they would be shot.
Manya and her mother spent five years in a displaced persons camp outside of Munich. At the age of 14, Manya was finally granted entry into the U.S. with her mother. She spent her teenage years growing up in the tenements of the Lower East Side of New York City where she says she spoke on the phone and rode an elevator for the first time.
Emily Pattillo in honor of her father, Ernest Roquemore: Liberator
Ernest Roquemore, a native of Atlanta, enlisted at the age of 34 and was trained as a surgical tech. He set up hospitals throughout Europe behind General Patton's front lines. As a staff sergeant, Roquemore was part of the group that liberated the work camp Ebensee in Austria. He took pictures of the survivors and his daughter, Emily, has donated the photographs to the Georgia Commission on the Holocaust. Roquemore was awarded a Bronze Star for his efforts in establishing hospitals.
Janine Storch: Holocaust survivor 
Janine Storch was born and raised in France. When Germany invaded in 1940 she was 10 years old. Janine recalls that her family was forbidden to do any work or own businesses. Jews not allowed access to public places and parks. They were restricted to buying food but a few hours a day. Janine and her family left their apartment and spent the rest of the war in the small town of Medan. They lived with fear wearing the Yellow Star and worried that at any time the Germans would come for them. Fortunately, their neighbors never denounced them and in August of 1944 they were liberated by the Americans. Other members of their family were taken during the occupation and never returned from Auschwitz. Janine married a survivor and they settled in Atlanta.