Anne Frank in the World: 1929-1945
Public Exhibit
Anne Frank in the World - Top Links
5920 Roswell Rd
Suite A-209
Sandy Springs, GA 30328
Get Directions
Hours:
Monday: Closed
Sunday, Saturday: 12pm - 4pm
Tuesday - Thursday: 10am - 4pm
Friday: 10am - 2pm
Exhibit Holiday Closings



Contact:
Free Admission
Anne Frank in the World: 1929-1945 - Code Block
exterior of exhibit.jpg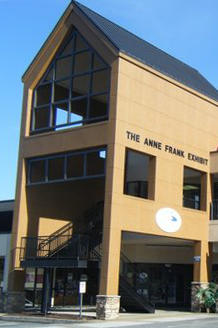 Visit
The exhibit is open to the general public. Admission is free. 
The self-guided tour of the space takes approximately 1.5 hours.
We recommend the exhibit only for children of grades 5 and up. Click here for more information on age appropriateness.
About
This exhibit uses over 500 photographs to tell the story of Anne Frank, a young Jewish girl who kept a diary while she hid with her family from the Nazis in Amsterdam. Anne grew up in Europe amidst the events that culminated in World War II and the Holocaust. Anne was one of millions murdered during the Holocaust. Her story is used as a lens to examine this period of history and the lessons it teaches.
Anne Frank in The World: 1929 -1945 was developed by the Anne Frank House and is sponsored in North America by The Anne Frank Center USA. It is presented in the state by the Georgia Commission on the Holocaust. It is currently hosted by the City of Sandy Springs.
The space includes:
Connect
Listen to an Audio Tour:  Out and About With Jody Franco -  Anne Frank in the World Exhibit
Follow the exhibit on Twitter!