Fashioning a Nation - Helene Mayer
1.jpg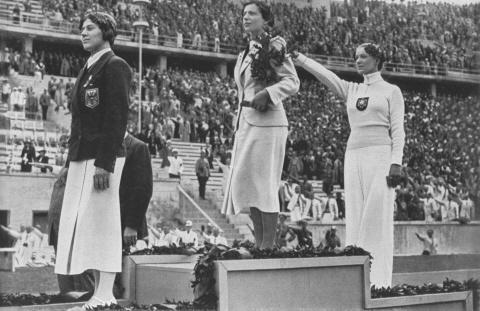 Olympic Fencer (1910-1953) Helene Mayer was born in Offenbach am Main, Germany, to a Jewish father and Lutheran mother.
In 1924, at the age of 13, Helene won the German foil championship. In 1928, at the age of 18, she won a gold medal in fencing for Germany at the Olympic Games in Amsterdam. By the age of 20, she had won six German championships in fencing. 
In 1932, Helene came to the United States to study international law. She competed at the 1932 Olympic Games in Los Angeles where she finished 5th. In 1933 she received a certificate in Social Work from the University of Southern California. While completing her studies she fenced for the university's Fencing Club. That same year, Adolf Hitler and the Nazi party rose to power in Germany and turned it into a single-party dictatorship. 
As with all other aspects of life in Germany, the Nazis sought to control sports. They utilized athletic imagery to promote their racial ideology, emphasizing the physical health and prowess of the German race. An "Aryans" only policy was applied to all German athletic organizations in April 1933. Anyone with Jewish or Roma parents could not be members of clubs or participate in public sports.
Although Helene no longer lived in Germany, her German citizenship made her eligible to compete in the 1936 Olympic Games in Berlin. According to Nazi racial ideology, which defined a Jew according to lineage and not religious beliefs, Helene was Jewish and was only allowed to compete after the Nazi regime gave in to diplomatic pressure. Helene won a silver medal in the individual foil event and gave the Nazi salute from the winner's podium. 
After the 1936 Olympic Games, Helene returned to the U.S. In 1952, she moved back to Germany where she married and settled down in Heidelberg. She died two years later, just two months before her 43rd birthday, from breast cancer.
In 2012, Helene was named as one the top 100 female athletes of the twentieth century by Sports Illustrated.
Film Clips
This page was last updated January 3, 2017.