Fashioning a Nation - Leni Riefenstahl
1.jpg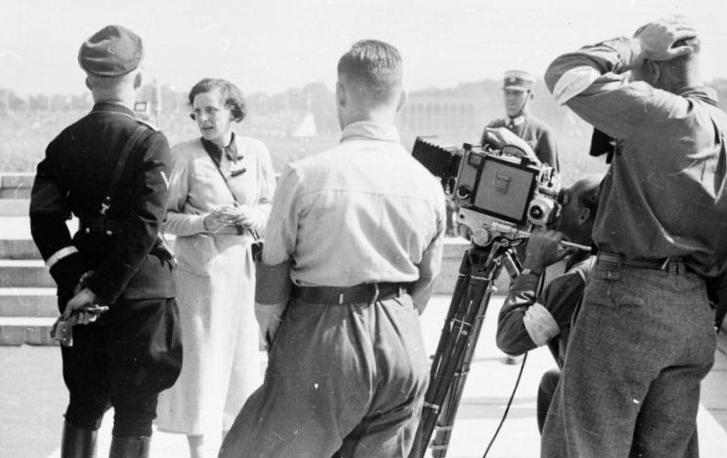 German Actress, Dancer, and Filmmaker (1902-2003) Leni Riefenstahl was born in Berlin, Germany. She began her career as an entertainer when she began working as an interpretive dancer. When a knee injury temporarily prevented her from dancing, she became interested in film. She starred in a number of silent films, many of which were set in the Alps and portrayed her as an athletic and courageous woman.
In 1932, Leni made her directoral debut with the release of her first major feature film, Das blaue Licht (The Blue Light). The film was well received and garnered the attention of Adolf Hitler who saw potential in Leni's work. Specifically, Hitler was attracted to the imagery and motifs that portrayed Germany similarly to his own vision for the nation - strong, inherently beautiful and destined for greatness. The pair joined forces for the first time in 1933 when Leni directed a short film Der Sieg des Glaubens (The Victory of Faith) using footage from that year's Nazi Party Rally. 
In 1934, Leni directed her most famous film - Triumph des Willens (Triumph of the Will) - using footage from 1934's Nazi Party Rally in Nuremberg. The propaganda film uses innovative filming techniques to communicate various elements of Nazi ideals, among which included German women clad in dirndls. 
In 1936, Leni directed another documentary for use as Nazi propaganda at the Olympic Games in Berlin. Once again, she used innovative filming techniques such as shooting from cameras mounted on rails, gliding along for a single, moving sequence. Although Olympia received controversial responses, it won Leni accolades and awards. It was named Best Foreign Film at the Venice Film Festival.
After World War II began in September 1939, Leni accompanied German troops as they advanced through Poland. She filmed Hitler's triumphal parade into Warsaw. She witnessed the execution of Polish civilians who were shot for committing partisan acts against German forces. The experience seemed to impact Leni both personally and professionally. She appealed to Hitler to cease such unnecessary violence. The war raged on and the primary subject matter of Leni's films shifted.
In 1940, she began filming for a project set in the Spanish Pyrenees. To enhance the story's "gypsy" feel, she borrowed Roma inmates from a labor camp in Austria near the film's set locations to use as extras. Many of the inmates were later deported to the Auschwitz-Birkenau camp where they died. 
After the war ended, Leni tried to distance herself from the Nazi regime. She never became an official member of the Nazi party but was closely associated with many of its leaders. She was declared a Nazi sympathizer after being the subject of four denazification proceedings. She explored new forms of cinematography and photography but she was never able to escape her past's connection to the Nazis.
Leni died in 2003, a few weeks after her 101st birthday.
This page was last updated January 3, 2017.