Traveling exhibit: "Witness to the Holocaust"
Are you interested in hosting this exhibit?
Please read the Borrower's Information Packet.
Once you have read and agree to the requirements listed in the packet, please submit a booking request. Please note that requests must be sent a minimum of 4 weeks prior to the preferred display date. Please be aware that the Georgia Commission on the Holocaust is busiest from February through May. For requests during this season, we encourage you to submit your request two to three months in advance.
William Alexander Scott III, whose father founded one of the first black-owned daily newspaper in the 20th century – The Atlanta Daily World, grew up in Atlanta, attended Morehouse College, and later became the editor of the newspaper. He was also a tireless civil rights activist and WWII photojournalist. In addition to telling Scott's witness testimony, the exhibit also includes panels drawing parallel between the Jim Crow Laws and the Nuremberg Race Laws of 1935-1945 implemented in Germany and Nazi-controlled areas of Europe.
IMG_9489.jpg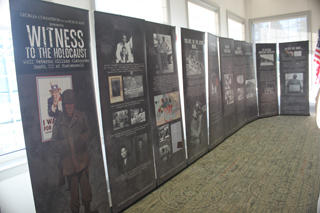 Specifications
The exhibit consists of 14 free-standing panels measuring 7' by 2'6" each that must be arranged in chronological order according to the number on the reverse side of each panel. 

Fees
There is no rental fee at this time for this exhibit. However, hosts may be asked to cover the travel expenses for the Georgia Commission on the Holocaust staff member(s) for set-up and take-down of the exhibit unless other arrangements have been made.
As travel expenses will vary depending on location, distance, and availability the Georgia Commission on the Holocaust is unable to provide an estimate until booking negotiations begin with the host. 
No admission fee may be charged to the public to view the exhibit unless the host has a standard admission in place at the facility.