Leon Bass, educator and witness to the Holocaust, passes away at 90
Leon Bass, an educator and witness to the liberation of Buchenwald concentration camp, passed away at the age of 90 on Saturday in Newtown, PA. With his death we are reminded that someday soon there will be no survivors, liberators, and witnesses of the Holocaust alive to tell their stories. Sally N. Levine, Executive Director, of the Georgia Commission on the Holocaust reminds us of the important obligation we have inherited:
We are the heirs to this history.  We must strive to continue to tell these stories and become the voices of these extraordinary people."
In 1943, World War II was in full swing. America was part of the Allied forces but jobs on the homefront were scarce. Bass was 18-years-old and a recent high school graduate when he volunteered for the United States Army. He saw it as a chance for travel, adventure, and a means to gain some experience. It was at the induction center that he first encountered "institutional racism" when he was separated from the group of white friends with whom he had arrived. The U.S. Army. like much of the country itself, was segregated at the time. 
(Photo: Portrait of Leon Bassin U.S. Army uniform during the Second World War. - United States Holocaust Memorial Museum, courtesy of Leon Bass)
Leon Bass.jpg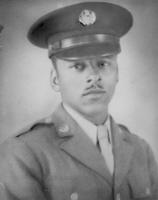 He was sent to Camp Wheeler near Macon, Georgia, for basic training. Next, he was assigned to the 183rd Engineer Combat Battalion and sent to Mississippi, Texas, Louisiana, and Arkansas for further training. Bass joined William A. Scott III and some ten others in the S-2 Intelligence Section. In 1944, the unit was sent overseas. That winter they were attached to the 3rd Army under the leadership of General George Patton.
Like his father who had been part of an expeditionary force for the U.S. Army in France during World War I, Bass was fighting for rights he himself could not exercise at home. That contradiction gained a deeper meaning in April 1945 when Bass encountered first-hand the dehumanization of Jews and other people deemed "inferior" by Nazis according to their racial ideology. 
After advancing through Belgium. Luxembourg, and over the Rhine River into Germany the 183rd Combat Battalion was given orders to go to Weimar. From there, as part of a liaison group, Bass was ordered to board a truck. Up until the moment when he asked "where are we going?" and the officer answered "a concentration camp", Bass had never heard mention of such a place. At the age of 20, Bass described himself then as "totally unprepared." He entered Buchenwald concentration camp shortly after it had been liberated by the 6th Armored Division and part of the 3rd Army on April 11, 1945.
Buchenwald was one of the largest concentration camps established in Germany. With at least 88 subcamps, the complex was an important source of forced labor. Medical experiments also took place at the camp, conducted by a team of  physicians and scientists. During its operation between July 1937 and April 1945, approximately 250,000 people from all countries of Europe were imprisoned at Buchenwald including but not limited to Jews, Jehovah's Witnesses, Roma and Sinti, German military deserters, prisoners-of-war of various nations (including the United States), resistance fighters, prominent former government officials of German-occupied countries, and foreign forced laborers. At least 56,000 male prisoners were murdered by the SS at Buchenwald. Exact mortality figures are not available since a significant number of prisoners were not registered. At the time of liberation, 21,000 people were found still in the camp. 
William A. Scott III also visited Buchenwald and while Bass left with only the terrible memory of what he saw and smelled, Scott had taken photos of the camp. Some soldiers, rendered by service or duty, went back to the camp after that day but Bass did not return. The war ended in Europe and he shipped out of Marseilles, France. He was discharged from the U.S. Army in early February 1946. He was glad to get out of the service. He went on to become the first person in his family to attended college when he enrolled on the GI Bill. However, he once again encountered "institutionalized racism" when he was forbid from living in the dorms. After nearly three years in the service, he was still denied the very freedoms he had fought to protect.
Racial discrimination in the armed forced was abolished in 1948 by President Harry S. Truman with Executive Order 9981. In 1963, Bass attended the March on Washington and Dr. Martin Luther King Jr.'s dream became [Bass'] dream as well. It was not until five years later, in 1968, that Bass finally spoke about what he saw at Buchenwald for the first time when a Holocaust survivor spoke to students at a high school during his tenure as principal.
Bass' witness testimony is available online through the USC Shoah Foundation. He is survived by his son, four grandchildren and one great-grandchild.
Sources and Related Links
Leon Bass, 90, educator forever changed by the Holocaust
"I Had Come Face to Face with Evil": Leon Bass Talks about his Experiences of Racism