On this day: April 1945
On This Day in History Promo
73714.jpg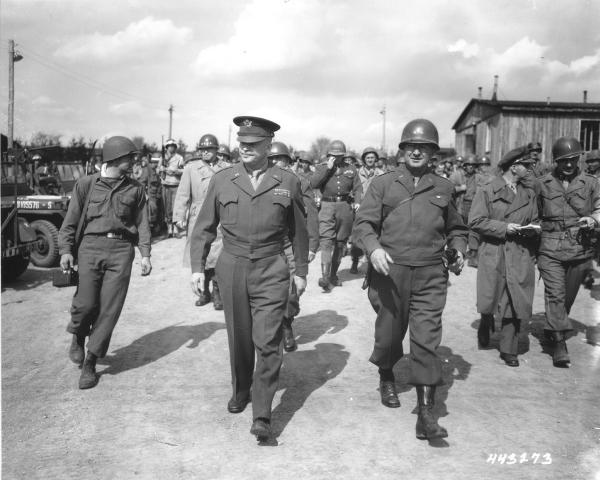 Photo: General Dwight D. Eisenhower and General Troy Middleton, commanding general of the XVIII Corps, Third US Army, tour the newly liberated Ohrdruf concentration camp. Ohrdruf, Germany, April 12, 1945. — National Archives and Records Administration, College Park, Md.
As Allied troops move across Europe in their fight against Nazi Germany, they begin to encounter camps established by the Nazis ranging in purpose from transit and internment to forced labor and death. With the liberation of Auschwitz in January 1945, through Germany's surrender in May,  the full extent of the Holocaust begins to become clear. 
The soldiers present for the liberation of these camps, many of whom are in their late teens or early twenties, are uninformed and unprepared for the horrific conditions with which they are confronted. Some young men will take years to process what they witness during this time. Those memories and the responsibility to bear witness will stay with them for the rest of their lives. Click here to learn about six Georgians who witnessed the liberation of Nazi camps between January and May of 1945.
April 4
U.S. forces (4th Armored Division and 89th Infantry of the Third Army) liberate Ohrdruf, a subcamp of Buchenwald, one of the largest concentration camps established within German borders.
April 6
Allied forces continue to advance toward the German capitol. The SS and police authorities at the Bergen-Belsen concentration camp complex in northern Germany decide to "evacuate" the remaining prisoners east. Anne Frank and her sister, Margot, had been interned at Bergen-Belsen since being transported from Auschwitz-Birkenau in October 1944. They died there of typhus in February 1945.
April 9
Auguste van Pels, one of the inhabitants of the Secret Annex, is deported from Raguhn (a subcamp of Buchenwald, Germany) to the  Theresienstadt "camp ghetto." It is believed she died en route or shortly upon arrival. 
April 11
Troops of the U.S. 3rd Armored Division and 104th Infantry Division liberate the Dora-Mittelbau camp.
The U.S. 4th Armored Division and the 80th Infantry Division liberate more than 21,000 prisoners at the Buchenwald concentration camp.
Mrs. van Pels' son, Peter, who had also been among those hiding in the Secret  Annex , is sent to the sick barracks at Mauthausen concentration camp. In January 1945, Peter survived a death march from Auschwitz when the SS ordered an evacuation of prisoners still able to walk. Upon arrival at Mauthausen, he was assigned to an outdoor labor group despite being already in very poor health after months at Auschwitz and enduring the "death march."
April 12
The 2nd Canadian Division liberates the Westerbork transit camp in the Netherlands. (The inhabitants of the Secret Annex had passed through the transit camp in September 1944 after their arrest in Amsterdam, before their deportation to Auschwitz.)
April 15
Bergen-Belsen is liberated by British forces (63rd Anti-tank Regiment and the 11th Armored Division). Approximately 60,000 prisoners are found in the camp. More than 13,000 prisoners die after liberation because they are too ill to recover. It is estimated that approximately 50,000 people died at Bergen-Belsen, including Anne Frank and her sister, Margot. 
April 22
Sachsenhausen is liberated by the First and 47th Polish Armies operating under Soviet command.
April 23
The 90th U.S. Infantry Division liberates Flossenbürg.
April 29
The 42nd and 45th Infantry Divisions and the 20th Armored Division of the US Army liberate approximately 32,000 prisoners at Dachau. Established in March 1933, the Dachau concentration camp was the first regular concentration camp established by the Nazis.
April 30
Soviet troops liberate over 2,000 prisoners at Ravensbrück.
Hitler commits suicide in his bunker in Berlin.
Sources and Related Links
Historical Film Footage: Liberation of Nazi Camps
Maps: Liberation of Nazi Camps
Photographs: Liberation of Nazi Camps
Oral Histories: Liberation of Nazi Camps