On this day: October 1942
On This Day in History Promo
Outside the Secret Annex: Mass Deportations of Jews in Amsterdam
After the German invasion of the Netherlands in May 1940, a civil administration was installed under SS auspices. Deportations of Jews from the Netherlands began in the summer of 1942. The geography of the Netherlands made escape difficult. The ruthless efficiency of the German administration and the willing cooperation of Dutch administrators and policemen doomed the Jews of the Netherlands. In 1942 alone the contents of nearly 10,000 apartments in Amsterdam were expropriated by the Germans and shipped to Germany. Some 25,000 Jews, including at least 4,500 children, went into hiding to evade deportation. About one-third of those in hiding were discovered, arrested, and deported. In all, at least 80 percent of the prewar Dutch Jewish community perished. 
October 2
The Gestapo, Dutch police, NSB, and SS carry out a large raid on the Jewish Quarter of the city. This day becomes known as "Black Friday." The Frank and Van Pels families have been hiding in the Secret Annex for nearly three months. Since July, outside the walls of their hiding place, the Nazis and their Dutch collaborators have been rounding up Jews living in Amsterdam for mass deportations to camps in the east. After being arrested, Jews are taken to an assembly point for deportations — the municipal theater building — where they wait for weeks or longer before being deported to the Westerbork transit camp then on to the killing centers at Auschwitz-Birkenau and Sobibor. 
October 9
Miep Gies, one of Otto Frank's employees and friends who is helping those in hiding, visits the Secret Annex and shares some "dismal and depressing news." Anne writes in her diary:
Our many Jewish friends are being taken away by the dozen. These people are treated by the Gestapo without a shred of decency, being loaded into cattle trucks and sent to Westerbork...If it is as bad as this in Holland whatever will it be like in the distant and barbarous regions they are sent to? We assume that most of them are murdered. The English radio speaks of their being gassed.
October 19
Miep and her husband, Jan, spend the night in the Secret Annex, after much encouragement from the other inhabitants, especially Anne.When the workday ends and the last worker leaves at 5:30, Miep and Jan make their way upstairs and through the bookcase door. Anne insists that the couple share the room in which she and her sister, Margot, usually sleep. At dinner Miep and Jan are given "seats of honor" at the table. Mrs. Frank and Margot supervise the cooking. After finishing the meal, the Frank, van Pels, and Gies families visit for a long time over coffee and dessert before turning in for the night. Miep sleeps in Anne's bed and Jan sleeps in Margot's. Click here to learn more about Miep's recollection of staying the night in the Secret Annex. Click here to learn about Anne's recollection.
Miep and Jan Gies - August 4 1987.gif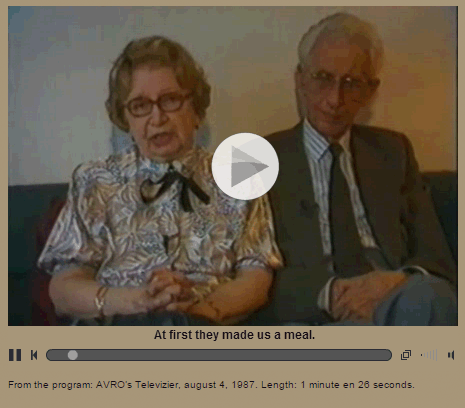 Sources and Related Links
Holocaust Encyclopedia: Amsterdam
Holocaust Encyclopedia: The Netherlands
Map: Major Deportations from the Low Countries, 1942-1944
Staying the night, according to Anne Frank
Staying the night, according to Miep Gies
Video: Miep and Jan Gies describe staying the night during an interview conducted August 4, 1987
Anne Frank Remembered: The Story of the Woman Who Helped to Hide the Frank Family  by Miep Gies and Alison Leslie Gold
The Diary of a Young Girl by Anne Frank