Kristallnacht -- A Turning Point
Eighty one years ago, on November 9–10, 1938, Jews in Nazi Germany and its occupied territory were subjected to ruthless destruction and incarceration in what became known as Kristallnacht, the Night of Broken Glass. On that night, shattered glass littered the streets and Jewish-owned businesses, synagogues, and homes were vandalized and destroyed. Thirty thousand Jewish men were rounded up and taken to concentration camps.
The violence of Kristallnacht was a dramatic escalation of Nazi anti-Jewish policy, which deprived Jews of their citizenship, their property and businesses and their rights to participate in German economic and cultural life. This was the first time Nazi officials unleashed widespread assaults and devastation inflicted on the Jewish community. After Kristallnacht, the Jewish community was forced to pay one billion Reichmarks to compensate Germany for the property damage. New anti-Jewish laws and decrees soon followed. It became clear to many Jews under Nazi occupation, that it was imperative that they leave.
Although this unprecedented violence against the Germany's Jews prompted outrage in the United States and around the world, American public opinion reflected the tough economic times, restrictive immigration policy and antisemitism. See the poll below:



Kristallnacht graphic.jpg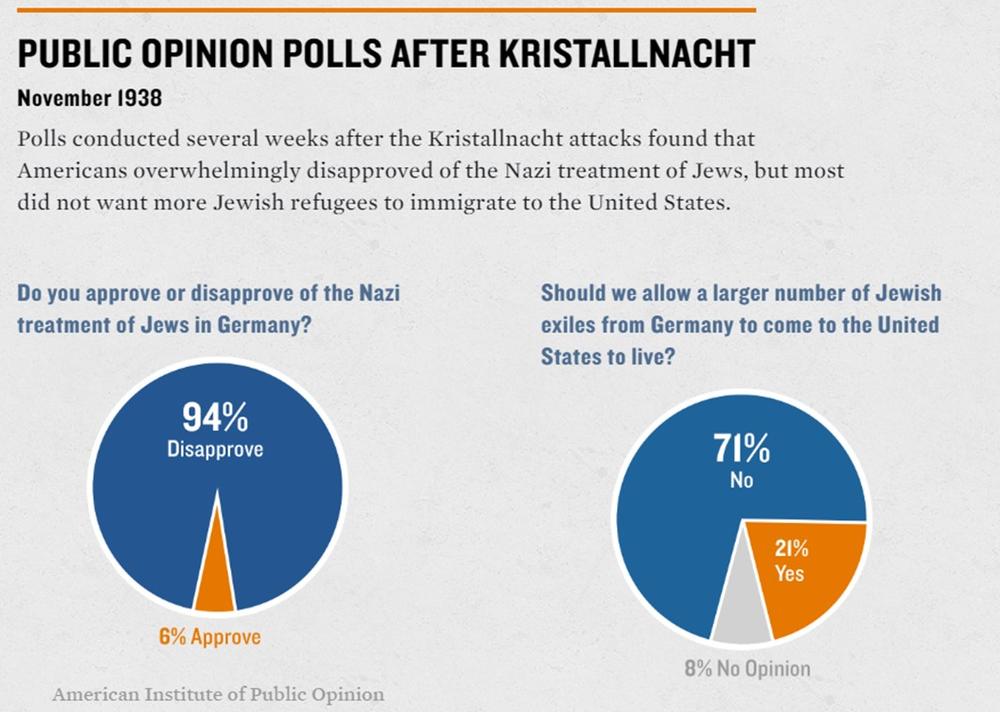 Why Didn't the Jews Just Leave?
Requirements for immigration were onerous. (Adapted from the US Holocaust Memorial Museum)
To leave the German Reich, immigrants needed the following:
Passport
Certificate from the local police
Certificate from the Reich Ministry of Finance approving emigration, which required:
 
Payment of a 25% emigration tax
Submission of a list of gifts given to third parties
Payment of a 25% capital transfer tax of assets
Certification that no outstanding taxes were due
Certification that currency regulations had been followed
An emigrant was permitted to take 2,000 RM or less in currency out of the country
Any remaining assets would be transferred into blocked bank accounts
Customs declaration permitting the export of personal and household goods
This declaration required:
A list, in triplicate, of personal and household goods and their value
Documents explaining the necessity of taking goods out of the country
Certification from a currency exchange office permitting the export of itemized personal and household goods
In addition, applicants could leave Germany only if they had valid travel arrangements and entrance visas for another country
Applicants were given a waiting list number from the consulate. When called, paperwork was provided to the consular officer for review. After a medical exam, applicants were given a numbered visa. Each country allowed a limited number of immigrants to enter.
To enter the United States, immigrants needed the following documentation for a US visa:
Visa application - Five copies
Birth certificate—Two copies
Immigration Visa
Two sponsors required to provide the following:
Affidavit of Support and Sponsorship - Six copies, notarized
Federal tax return
Bank affidavit
Affidavit testifying to assets and good conduct
Applicants had to provide two copies of each of the following:
Prison record
Military and government records
Affidavits of Good Conduct
Certificate of physical examination
Permission to leave Germany
Booked passage to the Western hemisphere
It is estimated that between 180,000 and 220,000 European refugees immigrated to the United States between 1933 and 1945. The United States accepted more refugees fleeing Nazi persecution than any other country in the world. Nevertheless, the vast majority of Europe's Jews were murdered by Nazi Germany and its collaborators.