Speaker Ralston swears in five to Holocaust Commission board
Five members were sworn into the board of the Georgia Commission on the Holocaust on Tuesday, January 19, 2016, after their appointments were announced by Speaker of Georgia House of Representatives David Ralston. Joining the Commission are Andy Bauman, Jody Franco (reappointment), Rabbi Philip Kranz, Michael Morris, and Robert Wittenstein. 
The Commission consists of fifteen members appointed equally by the Governor, Lieutenant Governor and Speaker of the House.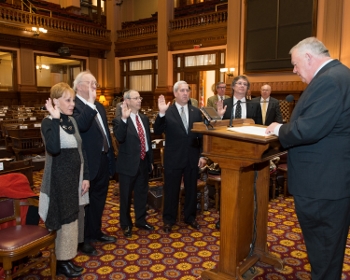 Left to right: Jody Franco, Rabbi Philip Kranz, Robert Wittenstein, Andy Bauman, Michael Morris, Speaker David Ralston. Click here to view more photos.
---
Andy Bauman
Andy Bauman is a member of the Sandy Springs City Council, representing district 6. Councilman Bauman established the popular Sandy Springs Farmers Market, which is currently managed by Heritage Sandy Springs. He has also enjoyed a successful career as an attorney.
Mr. Bauman is active within the community serving as the first alumni member of the Board of Directors of the Emory Federal Credit Union. He has participated in the American Jewish Committee leadership-training program, and served as a coach for the Northside Youth Organization. He is an active member of Temple Sinai.
Councilman Bauman completed both undergraduate studies and law degree at Emory University. He and his wife, Dr. Debbie Bauman, have two children and live in the Lake Forrest Summit neighborhood.
Jody Franco
A native Atlantan, Jody Franco has been a volunteer in the community since she was a teenager. In the late 1970's, she was the first paraprofessional hired by Jewish Family and Children's Services to coordinate services for several hundred Soviet Jews who arrived from the former Soviet Union. A decade later, she was elected president of the agency and also was awarded the Abe Schwartz Young Leadership Award by the Jewish Federation of Greater Atlanta.
Her affection for the written word has manifested itself in many ways. In the past, Jody taught high school English and for the past 30 years, she has been a partner in The Write Time, a company that writes and produces high-end customized newsletters for corporations. In addition, Jody is a Braillist certified by the Library of Congress. For the past 12 years, she has been a weekly volunteer reader for the Georgia Radio Reading Service (GaRRS) for the Visually Impaired. And for the past two and one-half years, Jody has produced a monthly one-half hour radio program for GaRRS called 'Out and About'.
Several years ago, Jody created 'Jody's Wrappers', a group of volunteers who wrapped gifts in December, with all proceeds benefiting Camp Sunshine, a camp for children with cancer. 
Over the course of seven years, many thousands of dollars were raised and subsequently utilized for scholarships. Another fundraising endeavor was Jody's co-chairmanship of a successful $9.2 million capital campaign for Hillels of Georgia to build the Marcus Hillel Center on the Emory University campus. 
For the past several years, Jody has been a docent with the "Anne Frank In the World" exhibit, first in Decatur and now in Sandy Springs.
Rabbi Philip Kranz
Philip N. Kranz served as Senior Rabbi at Temple Sinai in Atlanta from 1980 until his retirement in June of 2006, when he became Rabbi Emeritus. Prior to coming to Atlanta, he served for nine years as rabbi of the historic Chicago Sinai Congregation. Rabbi Kranz remains active at Sinai, teaching, writing and overseeing collection building in Temple Sinai's Rabbi Philip N. Kranz Learning Center. Married to Nancy Weston Kranz since 1971, Nancy and Rabbi Kranz are the parents of two married daughters, Rebecca Friedman and Abigail Ornstein.
Michael Morris
Michael A. Morris is the owner and publisher of  the Atlanta Jewish Times, Atlanta's premier Jewish periodical. It is published weekly and has been in continuous circulation for more than 85 years. Immediately before purchasing the AJT at the end of 2014, Michael was the interim director of the Friends of the IDF for the Southeast Region. In past endeavors, Michael was one of the founders of travelgirl magazine, where he was involved in strategic direction, management, circulation and advertising sales. Travelgirl is a national publication that focuses on women, travel, lifestyle and interviews; it was first published in 2003 and has been in continuous circulation since then. In Michael's early career, he founded and operated GMA Partners, a NASD-regulated investment banking and stock brokerage firm. He also was the assistant to the controller of Wolf Camera and an assistant trader on the OTC trading floor of Merrill Lynch.
Throughout his career, Michael has balanced business and philanthropic interests. He sits on the boards of two family foundations and serves on the board of the AEPi Fraternity Foundation. He also sits on the boards of several charitable organizations, including the Georgia Aquarium, Friends of the Israel Democracy Institute and Friends of the IDF for the Southeast Region. He is an honorary director of the Jewish National Fund's Southeast Region and is on the Parents Council of Washington University, which his oldest daughter attends.
Michael's many past civic and charitable involvements include the U.S. Holocaust Memorial Council in Washington, to which he was appointed by President George W. Bush; the Board of Visitors of the Shepherd Center; the Board of Advisors of Emory University's Goizueta Business School; the CDC Foundation's National Advocacy Council; the board of Temple Emanu-El, for which he was chairman of the endowment committee; the national board of ARZA; the board of Zoo Atlanta; and the board and executive committee of the American-Israel Chamber of Commerce for the Southeast, now Conexx. In addition, he has served as a trustee for the Jewish Federation of Greater Atlanta and chairman of its Young Leadership Council and as a trustee for the Atlanta chapter of the American Jewish Committee and chairman of its ACCESS young leadership division. In most of his roles in those organizations, Michael has worked diligently to raise money for capital campaigns, endowments and ongoing operations and has in many years raised more than $1 million.
Michael is a graduate of Leadership Atlanta's Class of 2001 and has received awards for outstanding young leadership from the American Jewish Committee and the Jewish Federation of Greater Atlanta. He is also a proud alumnus of the Jewish Federations of North America's National Young Leadership Cabinet. Michael received his master of business administration degree with honors from the Goizueta Business School of Emory University in 1992 and earned a bachelor of science from Vanderbilt University in 1985. He has four daughters, Jacqueline, Alexandra, Lydia and Hannah.
Robert Wittenstein
Robert Wittenstein is Senior Vice President of Data Services at Optum Health, a company that focuses on improving the healthcare system by combining data and analytics with technology and expertise. His thirty-five year career in I.T. has been spent working to improve healthcare through the application of technology.
In 2005, Wittenstein joined a small group of Dunwoody residents who began the effort to create the City of Dunwoody. He later served as a member of its first city council. He subsequently served on Dunwoody's Charter Review Board and as a member of the Zoning and Land Use Code Rewrite Committee. 
Wittenstein serves on the Executive Board of the Anti-Defamation League, the nation's premier civil rights/human relations agency. ADL fights anti-Semitism and all forms of bigotry, defends democratic ideals and protects civil rights for all. Robert has served on the ADL Southeast Regional Board for over twenty years. Wittenstein currently serves on the executive board of the Dunwoody Nature Center and is President of the Dunwoody Homeowners Association. 
Wittenstein grew up in DeKalb County, attended DeKalb County schools and Paideia School. He has a B.A. degree from Drew University.