Commission brings Holocaust survivor to speak at 4-H National Congress
The Georgia Commission on the Holocaust was proud to bring Dr. Eugen Schoenfeld as the guest speaker for the 2011 National 4-H Congress at the Hyatt Regency Atlanta.
Dr. Schoenfeld is a sociologist, Jewish scholar and Holocaust survivor. He was born in Hungary (in what is now part of Czechoslovakia.) He lived with his parents, brother, and sister until 1944 when the Nazis began rounding up the Jews in Hungary. He and his family were taken to the Auschwitz-Birkenau killing camp in Poland. In August of 1944, they were forced to march 70 miles to the Dachau concentration camp in Germany. Dr. Schoenfeld described how his severe thirst forced him to dig in the dirt until he found groundwater to drink.
Dr. Schoenfeld at 4H.JPG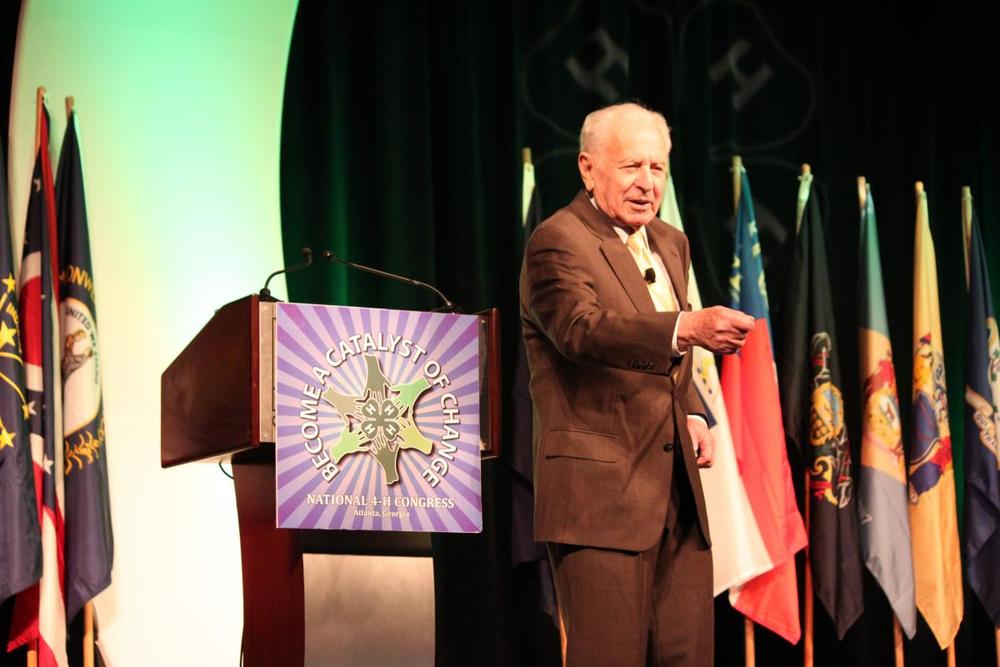 In 1945, Dachau was liberated by American troops. Upon their arrival, Dr. Schoenfeld stepped forward as a volunteer translator because he spoke English. He recalled how he immediately befriended the Americans when his first request was for was a pack of cigarettes.
We are each created human but it is vital that we add the 'e' so that we are also humane." Dr. Schoenfeld's message to the 4-H audience
Dr. Schoenfeld shared his story with over 1,000 youths that day. It is his hope that each of them take his message to heart as they continue to become "capable, competent, and caring citizens."
The National 4-H Congress is the capstone event of 4-H, the United States Department of Agriculture's youth development program. For 89 years, youth from the United States and its territories have participated in this youth leadership development conference. It aims to provide youth, ages 14-19, a quality, educational, and cross-cultural experience.
The 2011 National 4-H Congress marks the 109th year of 4-H programs. Members hail from farms, small towns, suburbs, and cities representing a variety of backgrounds and beliefs.
"Become a Catalyst for Change" is this year's theme. Each young person will be encouraged to use what they learn to positively impact their peers and home communities. Atlanta provides outstanding local program resources as well as a positive backdrop for youth issue discussions. The event includes 1,100 delegates.