World War II veteran and legislator John P. Yates passes away
Representative John P. Yates passed away Monday, December 11, 2017, at the age of 96. Yates was the last World War II veteran to serve in the Georgia General Assembly. 
Yates participated as a candlelighter in the state's official Holocaust Days of Remembrance in 1995, 2010, and 2015. The 2015 ceremony commemorated the  70th anniversary of the liberation of Nazi camps throughout Europe. Yates lit a candle with Holocaust survivor Ben Walker. 
Yates is one of seven veterans from Georgia featured in our exhibit "Georgia's Response to the Holocaust: Witnesses to Liberation".
DOR 2015 - Candle 6.jpg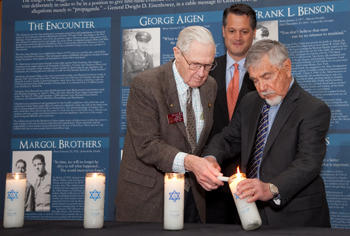 (2015 Days of Remembrance, State Capitol -- Representative John Yates with Holocaust survivor Ben Walker)
During World War II, Yates served as a liaison pilot of a Piper Cub air plane. He provided air cover for vulnerable ground troops and destroyed German targets. In the spring of 1945, Yates participated as a military observer in the liberation of the Dachau concentration camp, one of the first established in Germany.
"If you fight a war, you have a better perspective of what is important."
Yates was raised on a farm in Spalding County, Georgia, during the Great Depression. After the U.S. entered World War II, he was drafted and selected for officer candidate school. He signed up to be a liaison pilot and chose an outfit he thought likely to go to Europe – the 35th Infantry Division.
Yate's experiences during the war had a profound effect on him. He developed a strong commitment to Holocaust education in the state of Georgia. He believed that it may prevent such a tragedy from ever happening again.
For his courage in flying over 200 missions near or over enemy lines, Yates was awarded six air medals and four battle stars. In 2013, Yates was inducted into the Georgia Military Veterans' Hall of Fame for his valor, outstanding leadership, and selfless service to our nation.
Yates served in the Georgia General Assembly for over 20 years.  He was the last World War II veteran to serve in the Georgia General Assembly.