"Hélène Berr, A Stolen Life" exhibit about French diarist comes to Atlanta
Alliance Française d'Atlanta and the Goethe-Zentrum Atlanta in partnership with the Consulate General of France, the German Consulate General, the Georgia Commission on the Holocaust, and the William Breman Jewish Heritage Museum host the "Hélène Berr, A Stolen Life" exhibit created, designed, and circulated by the Mémorial de la Shoah in Paris, France.  The exhibit will be on display from January 22 through March 15, 2014 at Colony Square, Plaza Level, Suite 561 in Midtown Atlanta. 
Programs
January 22, 7-9:00 p.m. - Opening Reception at Alliance Française & the Goethe-Zentrum
March 5, 7:00 p.m.- Film Screening of "Hélène Berr, a young woman in occupied Paris"
About the exhibit
official portrait.jpg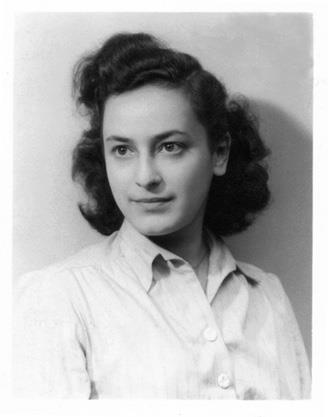 A student of English, Hélène Berr was 21 years old when she began writing her journal. The year was 1942 and the anti-Jewish laws of Vichy started to radically change her life little by little. Until March of 1944, the date of her arrest, she kept her journal on a daily basis. Deported to Auschwitz with her parents, she died in 1945 at the Bergen-Belsen concentration camp, a few days before liberation.
This text, of an exceptional literary quality, provides a subtle account of what life in Occupied France and Paris was like.
Writing the entire reality and the tragic things we live, given all their bare seriousness and without deforming them with words, that is a very difficult task which requires a constant effort."

Left: Hélène Berr's official portrait, 1942 © Mémorial de la Shoah – Coll. Mariette Job 
For sixty years, the manuscript of Hélène Berr's diary did not exist except as a painful family heritage. One day in 2002, Mariette Job, Hélène's niece, decided to entrust the manuscript with the Mémorial de la Shoah. Published by Tallandier in January of 2008, the diary met an immense success.
Through this exhibition, the Mémorial de la Shoah offers the public the oppportunity to discover several family documents archived at the museum's documentation center, other archives that broaden the historical context, as well as reproductions of the original manuscript and an interactive map of Paris. This exhibition was curated by Karen Taieb and Sophie Nagiscarde. It was designed, created, and circulated byMémorial de la Shoah (Paris, France). It was possible through the generous support of SNCF.
sponsors.jpg