The Commission launched a new traveling exhibit, "Witness to the Holocaust: WWII Veteran William Alexander Scott III at Buchenwald" at Sweetwater Middle School on March 14, 2013. The exhibit will be on display at the school until March 22, 2013.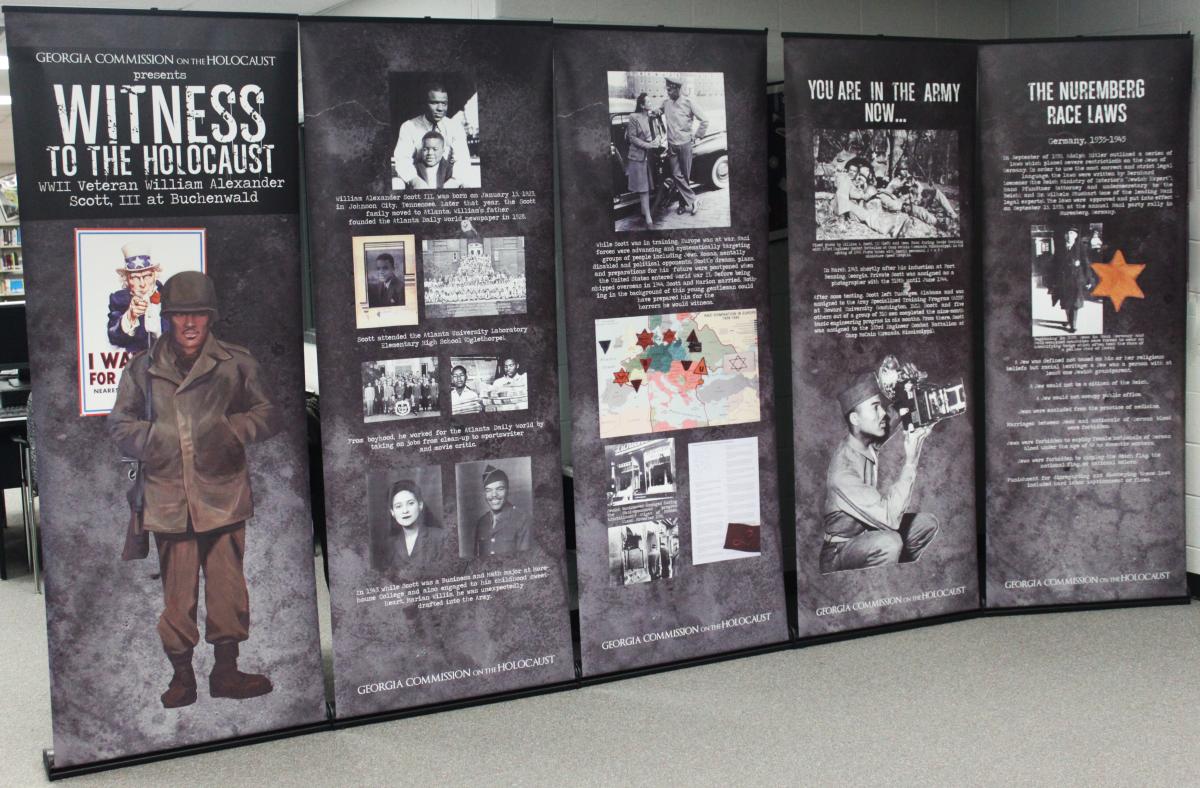 Alexis Scott, publisher of the Atlanta Daily World newspaper and William Alexander (W.A.) Scott III's daughter, spoke to students and faculty about her late father's experiences as a photojournalist in the Army during World War II
.
The Atlanta Daily World was one of the first black-owned daily newspaper in the United States
. It
was founded
in 1928 by Alexis' grandfather, W.A. Scott II. Her father, W.A. Scott III, was a student at Morehouse College in 1943 when he
was drafted
into the Army.
Before
being shipped
overseas in 1944, W.A. married his high school sweetheart, Marion Willis
.
W.A. was a reconnaissance sergeant, photographer, camoufleur, and part-time historian in the Intelligence Section of the 183rd Engineer Combat Battalion
.
During World War II, the United States Army was, like much of the nation itself, segregated.
Things

were supposed

to be 'separate but equal' but they were not, of course. They were separate but they were not equal.

So that was one of the challenges that many of the black soldiers had – they were fighting for rights that they could not enjoy

.

But a lot of the black solders felt that because they were fighting for democracy,

surely

the United States would see that and recognize that; 'we are

just

as patriotic,

just

as American, and this will make a difference when we come back home.' And, as you know, it

certainly

did

." -Alexis Scott
On July 16, 1948, President Harry S. Truman issued Executive Order 9981 which abolished racial discrimination in the armed forces
.
On April 11, 1945, W.A. rode into Eisenach, Germany, with an Army convoy of the 8th Corps of General George S. Patton's 3rd Army.
The American soldiers were not prepared for the horrors they
witnessed
at the Buchenwald concentration camp
. , one of the largest concentration camps established by the Nazis within German borders.
The African American soldiers liberating the camp could hardly overlook the irony of American segregation policies as they fought the Nazi army which carried the banner of racial supremacy
. W.A. documented the Nazi atrocities at Buchenwald with his camera. Alexis recalls how
deeply
just
one of the photos her father was able to keep haunted her when she was a child.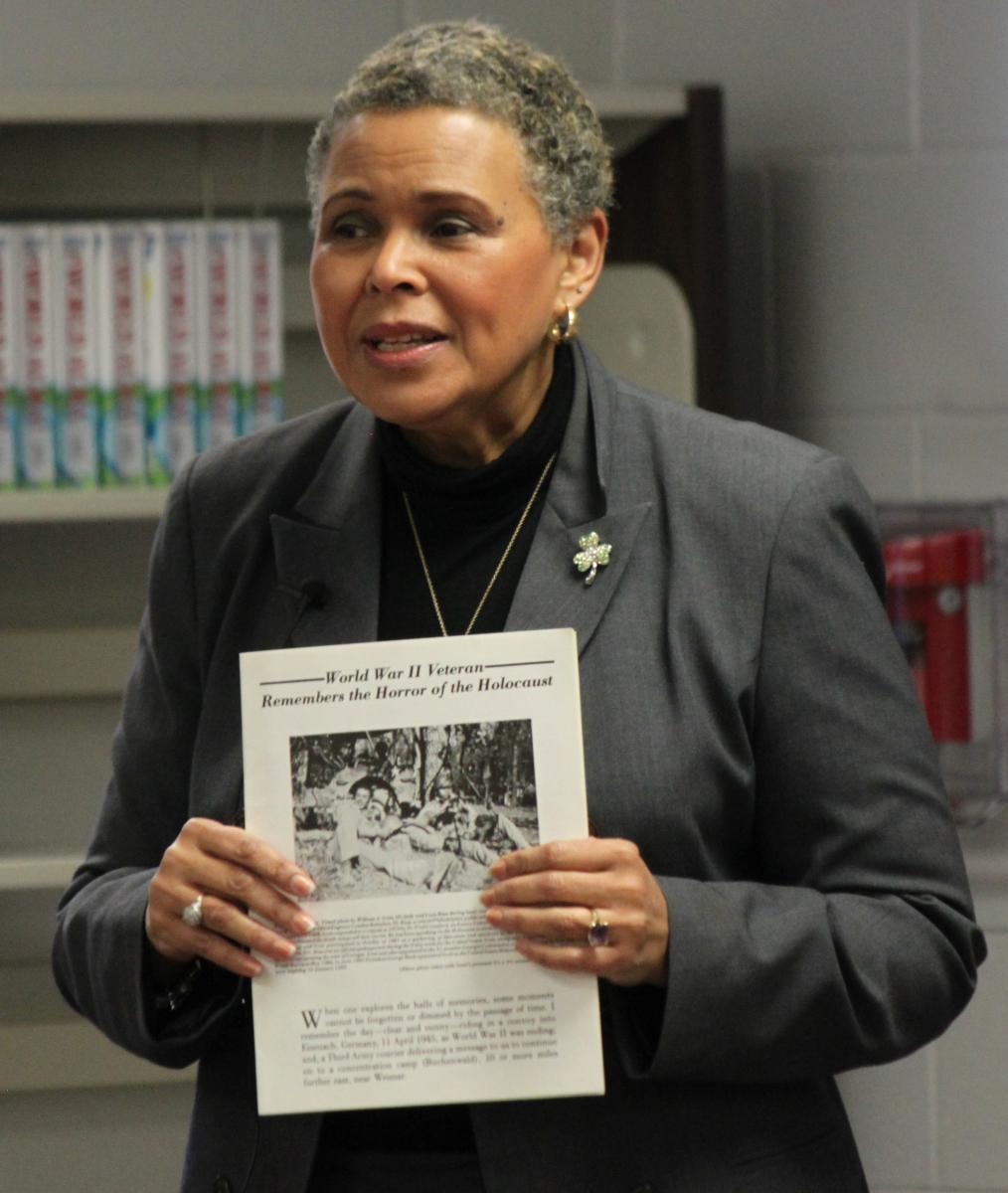 Alexis passed around a copy of a pamphlet her father used when he spoke to schools about his experiences. Many of the photographs in the pamphlet
are included
in the traveling exhibit. W.A. traveled to speaking engagements with a Buchenwald survivor, Alex Gross.
W.A. and Gross had become close friends after meeting in 1970 at an event for liberators and survivors of Buchenwald
.
Alexis recalled how Gross called the African-American soldiers "angels" because upon liberation he had never seen anyone like them
. As he looked up from near death, he thought that they must be angels come to rescue him.
Because my father

witnessed

the horrors of the Holocaust and was experiencing the injustice of racial discrimination back at home, he

was determined

to do what he could to change things

. 

One of the things he knew, based on his experiences as a soldier in World War II, is that there was a concerted effort to

eliminate

the Jews – a genocide – and that this was the extreme execution of hatred

. He realized, in coming back to combat it here, that you cannot fight hate with hate. Hate only begets more hate." - Alexis Scott
After the war, W.A. returned to Atlanta and completed his education.
He went on to apply to Georgia Tech, despite the fact that acceptance was impossible at the time due to the color of his skin
. He submitted his application to challenge the system.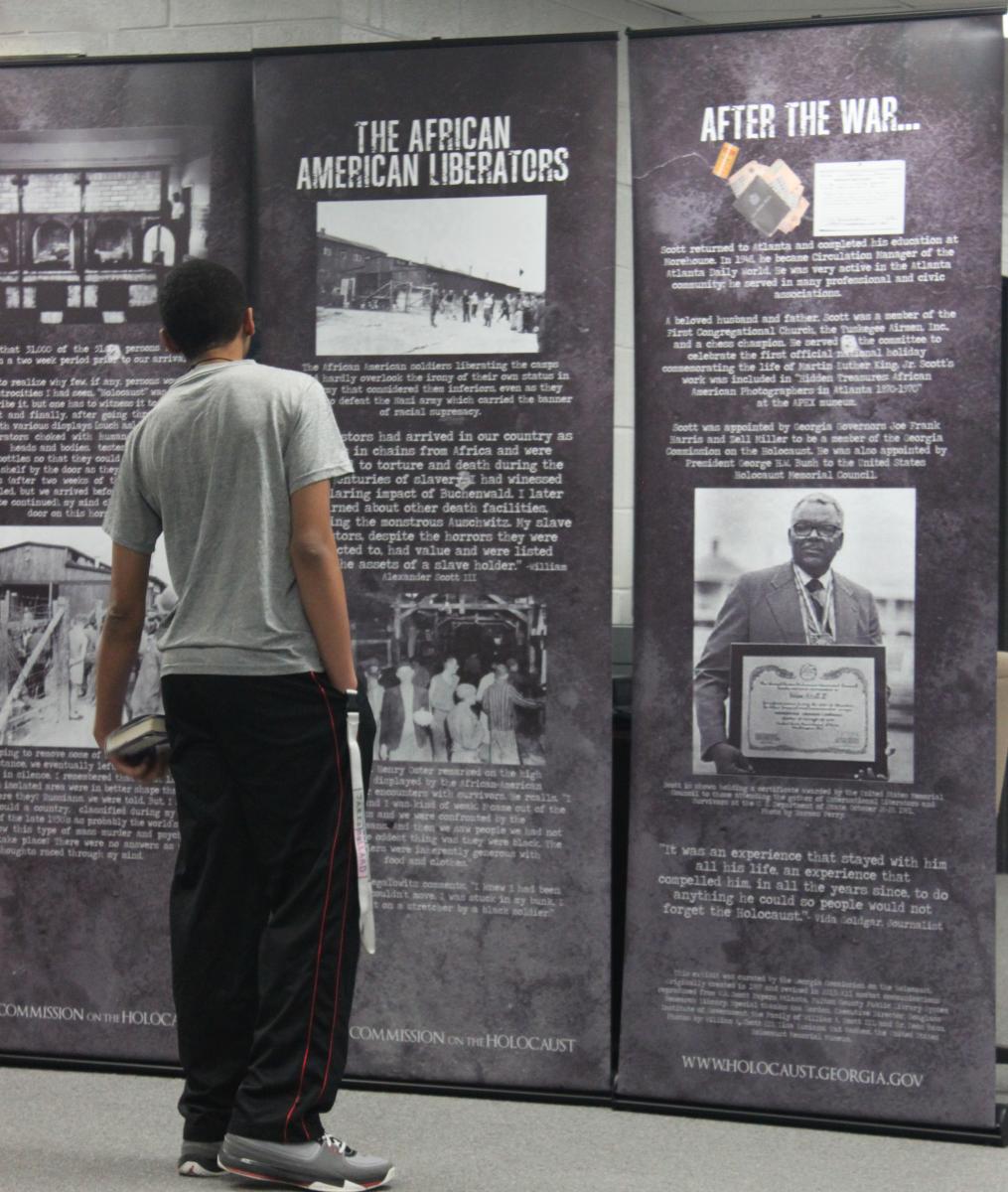 Alexis shared other examples of how her father challenged the status-quo of a segregated Georgia through "non-violent confrontations of the injustice
."
"The rest of his life
was lived
-out in a sense of community…he
was determined
to do things that would challenge and confront the system
. But he was not going to throw stones at the system."
In 1948, W.A. became circulation manager of the Atlanta Daily World.
He served on the committee to celebrate the first official national holiday commemorating Martin Luther King, Jr. W.A.
was appointed
to the Georgia Commission on the Holocaust by Georgia Governors Joe Frank Harris and Zell Miller
.
He was also appointed to the United States Holocaust Memorial Council by President George H.W. Bush
.