Add to Calendar
Tue, 01/24/2017 (All day)

to

Mon, 05/01/2017 (All day)
Location:
Anne Frank in the World: 1929-1945
5920 Roswell Road Suite A-209
The Georgia Commission on the Holocaust is proud to present the display of its exhibit series "Fashioning a Nation: German Identity and Industry, 1914-1945" at the Anne Frank in the World: 1929-1945 exhibit in Sandy Springs.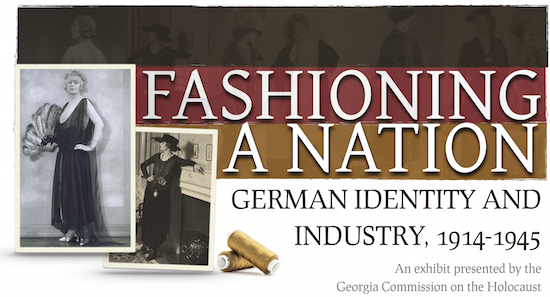 This exhibition explores the powerful history of German fashion from its international impact to its destruction by the Nazi regime. It honors the legacy of the Jewish Germans who contributed to its rise and commemorates the great cultural and economic loss resulting from its demise.
Beginning in the late 19th century, contributions made by Jewish Germans in the realm of business, design, photography, and journalism were integral to the success of the German fashion industry. There was no German fashion without Jewish Germans. The exhibition uses fashion as a lens to not only examine a particular period of history but to study German identity and industry. More information about the people, clothing, and historical events featured in the exhibition is available on the corresponding site page, www.holocaust.georgia.gov/fashion.
The opening program on January 9, 2017, was hosted in cooperation with Goethe-Zentrum Atlanta and included a panel discussion moderated by Executive Director of the Georgia Commission on the Holocaust, Sally N. Levine. The panelists were:
Beginning in May 2017, the exhibit will be available for loan to communities and schools throughout Georgia. To learn more about the exhibit or to submit a booking request, please click here.