Students decorate trunk in honor of Canadian liberators
In the fall of 2013, the Consulate General of Canada in Atlanta partnered with the Georgia Commission on the Holocaust to promote Holocaust remembrance and education. To recognize this partnership the Georgia Commission on the Holocaust asked students of Westside Middle School in Winder, Georgia, to decorate a special trunk as part of the statewide Holocaust Learning Trunk Project.
Can-Galloway-0240.jpg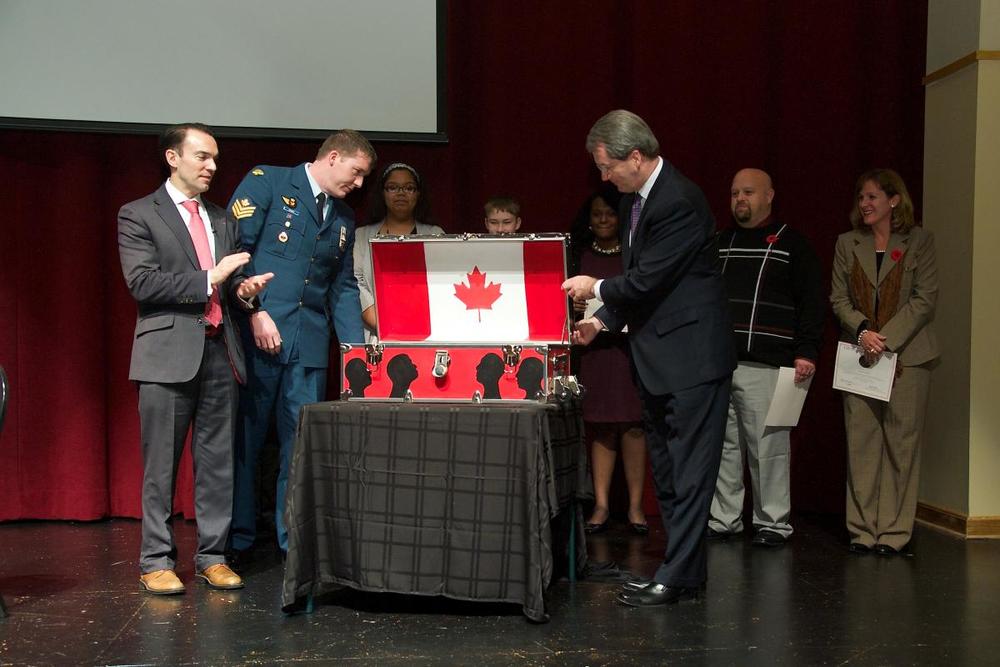 The students specifically designed artwork commemorating Westerbork transit camp which was located in the Netherlands and orchestrated the deportation of approximately 97,776 Dutch Jews, German Jews – including Anne Frank and her family – Gypsies and members of the resistance movement. Deportations from Westerbork to extermination camps in the German-occupied Poland took place nearly every Tuesday between July of 1942 and September of 1944. The Frank family was deported on the third to last train to leave Westerbork for Auschwitz. The camp was liberated by Canadian troops on April 12th, 1945.
In Canada the poppy is a symbol of remembrance. Although poppies are worn each year on Remembrance Day in November, the students wore the pins to recognize not only the theme of the trunk they created but to honor and memorialize the men and women who serve Canada in times and war and of peace.
The trunk was unveiled by Consul General Stephen Brereton, Canadian Special Forces Sergeant Scott Walker, and International Holocaust Remembrance Alliance Chair Dr. Mario Silva on December 10th for "Remembering and Teaching the Holocaust in the 21st Century" at The Galloway School in Atlanta. The event was hosted by the Canadian Consulate General of Atlanta in partnership with the Georgia Commission on the Holocaust.
Sgt. Scott Walker, Dustin Davis, Consul Stephen Brereton, Kate Thompson, William Eure, Jennifer Baker, Mikayla Harrison, Miracle Stout, Harrison Riedel.jpg